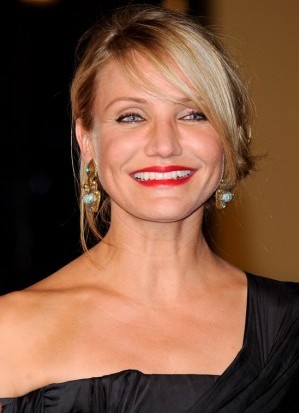 Actress Cameron Diaz has nothing against dating right now, she's just into loving herself!
In a recent interview in Playboy's July 2010 issue, Diaz talked about everything from how she currently stands with her ex-boyfriend, singer Justin Timberlake, to rumors about her being in a new relationship with New York Yankees star Alex Rodriguez. She also went on to give us a little inside scoop on the kind of connection she likes to have with a man.
On her ex-boyfriend Justin Timberlake:
"We're adults. Of course we could work together. It's been three years since we broke up. It's all done. … We're friends; he's really talented and funny, and we're good at being funny together. A great dynamic we have is that we love laughing together … He's so hilarious."
On new relationship with Alex Rodriguez:
"No, no, no,. I've been in relationships since I was 16 years old. In the past three years I've made a conscious decision not to be in a relationship for as long as I want. … I want to have a relationship with myself right now."
On the connection she likes to have with a man:
"I'm primal on an animalistic level, kind of like, 'Bonk me over the head, throw me over your shoulder. You man, me woman. Not everybody has the right kind of primal thing for me. … I love physical contact. I have to be touching my lover, like, always. It's not optional."
That Cameron Diaz is something else!!
Be the first to receive breaking news alerts and more stories like this by subscribing to our mailing list.