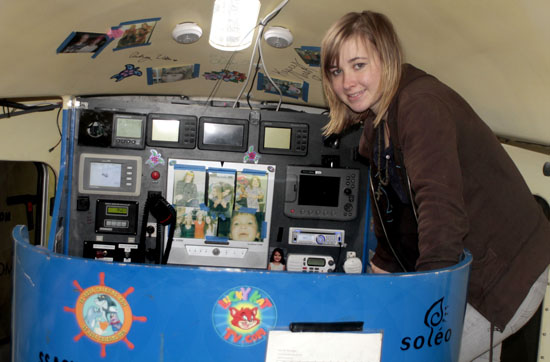 Good news! Abby Sunderland, the 16-year-old sailor who had been missing since Thursday (Jun 10) was found yesterday after an 18-hour manhunt. The search ended after Abby was heard on a marine radio saying "This is Abby" and an above-ground search team spotted a tiny figure from the sky in the middle of the Indian Ocean.
The young woman is reportedly in good health following her rescue from her damaged vessel 2,000 nautical miles off western Australia. The crew of the French fishing ship the Ile De La Reunion heard Abby on their radio and dispatched a smaller boat to pick her up.
The Australian Maritime Safety Authority's Rescue Coordination Center (RCC Australia) coordinated Sunderland's rescue with the support of a Global Express aircract, which provided above ground coverage during the transfer and served as a communications relay between "Wild Eyes" (Sunderland's boat) and the Ile De La Reunion.
The RCC Australia has spoken with Sunderland's parents in Thousand Oaks, CA and are making arrangements to take the teenager ashore.
Be the first to receive breaking news alerts and more stories like this by subscribing to our mailing list.