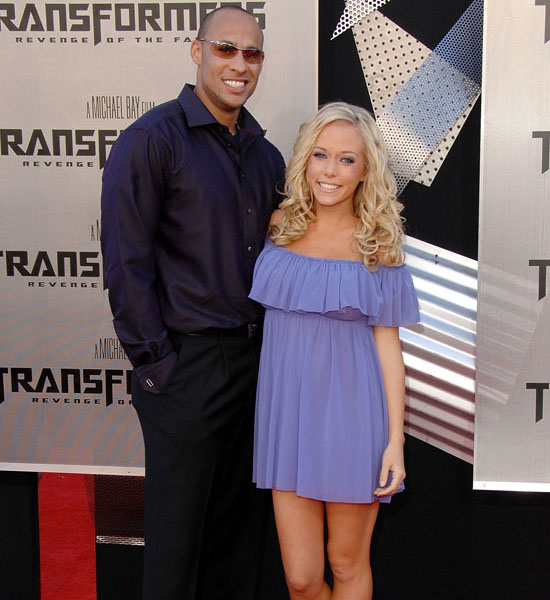 Kendra Wilkinson says this whole sex tape ordeal is hitting her hard, but she's thankful her husband Hank Bassett has been supportive through everything.
"He's doing a good job because he's understanding," the reality star, 24, says about her NFL player husband of one year. "He's like, 'Kendra, we just have to hold our heads high because, yeah, we're going to get attacked, but we can't run."
In a sneak peek of her E! show Kendra May 31 season finale, Wilkinson, who reportedly made the tape with an ex-boyfriend when she was 18, hopes the public won't judge her based on actions from six years ago. "That was me, but that's not me now," says the former Playboy Playmate, now mom to 5-month-old Hank Baskett IV. "It broke my heart because how can [someone] do that when I have a baby?" she says in the preview clip posted on E! Online. "It just sucks. It's the hardest thing to deal with right now."

For now, she's leaning on Baskett, who told her, "We have to hold hands and walk through this and face this fact," for strength. "It's going to be really hard," she says. "It's going to probably be the hardest time of our lives."

PEOPLE
This of course contradicts everything that's rumored to be going on behind the scenes. Allegedly, Kendra received close to $700,000 before the tape even went out. Rumors also state that she and Vivid Entertainment, the company distributing and profiting from the 20 hours of footage sold to them by her ex boyfriend, have a deal worked out that she gets ups to 50% of sales. And there will be more tapes to come.
But it's not all bad. Who knows? Maybe she can spin this as good as some other well-known sex tape victims (like Kim Kardashian for instance) and create some decent relevancy for herself. It's out already out there, might as well make the best of it! But you've gotta wonder how she's gonna explain this to Hank Jr. when he finds his mommy's goodies all over the Internet when he looks up her name in Google :-/
Be the first to receive breaking news alerts and more stories like this by subscribing to our mailing list.