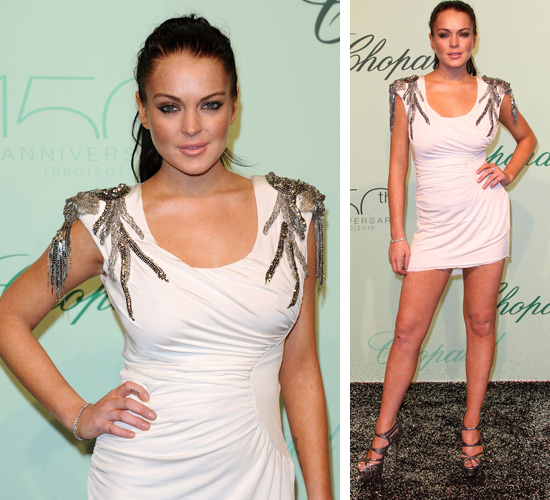 Lindsay Lohan does it again!! It's like some people can get a million chances and still manage to f** every last one of them up. Well, the troubled actress has done just that and is going to be paying the jailhouse a visit pretty soon.
Today, a bench warrant for Lindsay's arrest was issued by Judge Marsha Revel for failure to appear in court. Lindsay missed a mandatory probation progress report hearing Thursday (May 20) and in addition to her arrest, bail was set at $100,000. (WOAH!) However, according to the movie star, who has been in France for the past week or so for the Cannes Film Festival, her passport was somehow stolen preventing her from catching a flight back to the U.S. Lindsay's attorney tells PopEater.com:
"She had valid reason for not being here today. This is a young woman who is complying … but could not be here because of something out of her control."
Regardless of whatever excuse Lindsay or her attorney may have, the actress will be detained by either the Los Angeles Airport police or the LAPD once her flight has landed in L.A. A rep from the U.S. Customs and Border Protection stated:
"Anyone who enters the country who has an active warrant in the law enforcement database will be detained by their office and local authorities will be called."
But of course, Lindsay's mother Dina Lohan (aka captain super-save-a-hoe) has other words to say about this:
"Everything is going to be fine. Lindsay has a new passport."
Well she might have a new passport, but we don't think Lindsay is going to be seeing her way out of this one! Besides who's ever heard of an imaginary passport thief anyway?? Get your sh*t together Lindsay!!
Be the first to receive breaking news alerts and more stories like this by subscribing to our mailing list.