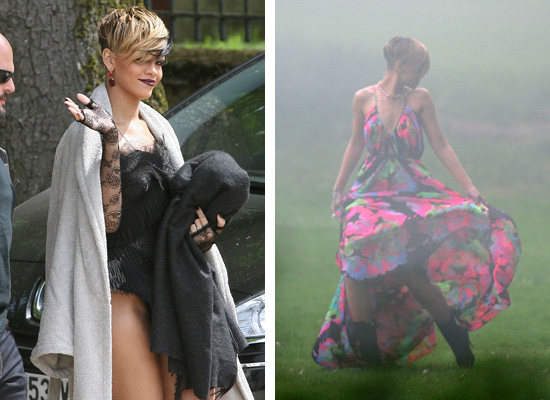 Pop singer Rihanna took a break from conning people into paying to watch her wander around on stage for her European tour to shoot the music video for her new single "Te Amo" at the castle of Vigny in the suburbs of Paris, France yesterday (Fri. Apr 29). And the paparazzi snapped a few pics of the entertainer as she made her way to the set and while she shot the video with the camera crew.
Anthony Mander, the new video's director, promises "something special" for the song's treatment. He tweeted: "Thanks to all of Rihannas fans for the long list of suggestions…were gonna follow our instincts and give you guys something special."
The song "Te Amo" follows Rihanna as she tries to let another girl know that she loves her as a friend but not "like that" as the other girl would want. French model Laeticia Casta guest stars in the video as the girl who has a crush on Rihanna and wants to get busy with her.
"Listen we can dance, but you gotta watch your hands / Watch me all night night, I'm movin to the light because I understand / That we all need love, and I'm not afraid / I feel the love but I don't feel that way…"
Interesting concept for a song. Can't wait to see what the video's gonna look like. Rihanna may not be able to carry herself on stage but everybody knows ol' girl can work the hell out of a video! We'll give her that 😉
Check out 10+ pictures of Rihanna on the set of her new video below…
Be the first to receive breaking news alerts and more stories like this by subscribing to our mailing list.