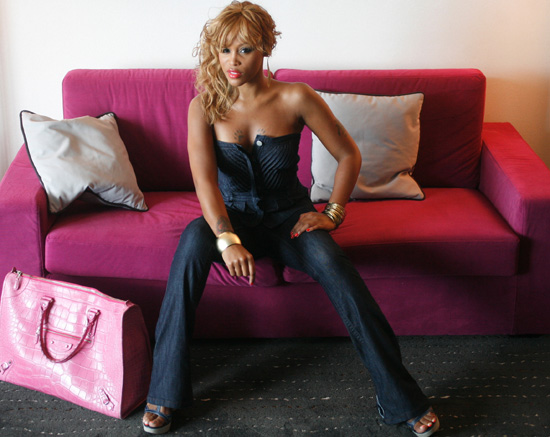 Female rapper Eve recently spoke with Vibe Magazine to get some things off her tattoo'd chest about how she feels about Jimmy Iovine and her former label Interscope Records. She says she has no hard feelings towards Iovine because at the end of the day, business is business. But she definitely put it out there that she did not appreciate the way the situation was handled when she was dropped from the label.
"[Interscope was] stupid because they didn't drop me at first, they [just shelfed me] and dropped the ball. After 'Tambourine', they straight up were like, 'Umm, yeah, nah, we're not putting out the record.' After that I was like 'Yall gotta let me go. I've been here 11 years and you're frontin on me?' It got to that point," she reveals.

Eve who's debut album off Interscope, Let There Be Eve… Ruff Ryders' First Lady, debuted in 1999, says she loves the label's chairman, Jimmy Iovine, but admits that he's motivated by trends, no matter how much faith he's already invested in a senior artist – "I'm not going to talk shit about him, but I don't appreciate the fact that he didn't go the extra mile for me."

However, the main reason the Philly chick says she left disgruntled has everything to do with a pledge that was made to her before her 4th album, Flirt was meant to drop in 2007. "They promised me the machine. The machine is basically the roll out. It's 'Yo, when [Flirt] comes out, we'll give you this, we'll give you that. And that's what made me mad. It'd be different if we didn't have a mtg where people promised me shit. If they were just like 'Oh we're going to put the album out and see what happens,' that would be one thing," she says.
"But they were like 'No, we're making sure this happens, it's coming out on this date.' It was concrete. But it's all good, everything happens how it's supposed to, when it's supposed to."

Eve confesses experiencing a short surge of confusion. "I definitely went through a period of 'Are you serious?' I think I didn't know how to feel. Once it finally happened, it's like 'Damn, so you wasn't really fucking with me?' I went through a lot of different thoughts, but that only lasted for two days."
Dang… You see how labels treat you once they've sucked you dry? They throw you away like a used Bounty paper towel!
Be the first to receive breaking news alerts and more stories like this by subscribing to our mailing list.