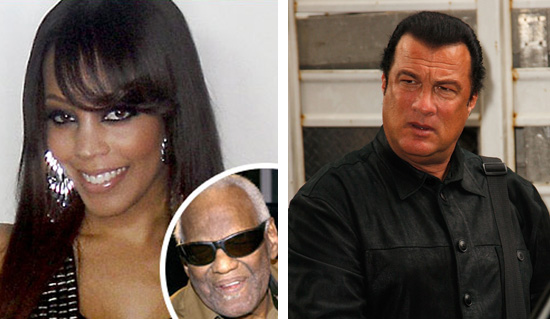 Two more women have come forward with accusations against notorious womanizer Steven Seagal, who they say sexually harassed them. First, the actor/producer was accused of making a former employee his "sex toy" and now Ray Charles' granddaughter Blair Robinson and another woman is accusing the actor of making sexual advances towards them too! Blair claims to have first met Seagal back in 2004 at her grandfather's funeral. After the service, the 58-year-old actor invited Robinson to his home, along with her father Ray Charles Jr. to talk business. And when she started working for him, that's when the sexual advances were allegedly made.
According to court documents, Robinson was soon hired to be Seagal's assistant. On her first day, the actor allegedly told her she was required to give him massages and even instructed her how to do so. "It became clear to me that he wanted and expected sexual favors as part of my job duties," Robinson states in the papers. She reportedly quit after the first day.
Another former employee of Seagal claims the actor made unwanted sexual advances toward her while she was working for him. Both women have provided sworn declarations to assist a $1 million dollar lawsuit filed by Kayden Nguyen, a 23 year old model who claims Seagal sexually harassed and assaulted her.
In one woman's declaration, obtained by TMZ, Seagal is accused of luring the alleged victim into his bedroom and putting his hands on her breasts because he was "checking just as a doctor would for lumps."

"Seagal reached his hand down my pants. He said, 'I just wanted to touch it for a second to see what it felt like,'" reads the statement. Similar to Nguyen, both women quit after Seagal allegedly made inappropriate sexual advances at them. His lawyer, Marty Singer, denies the "absurd" accusations and claims the actor has "no knowledge of these women."

"A preliminary check of his employment records does not show that they ever worked for him," said Singer. "The declarations were clearly prepared by Nguyen's lawyer to be leaked to the media to help bolster his client's meritless claims."
Uhm… wow. That's just nasty.
Be the first to receive breaking news alerts and more stories like this by subscribing to our mailing list.