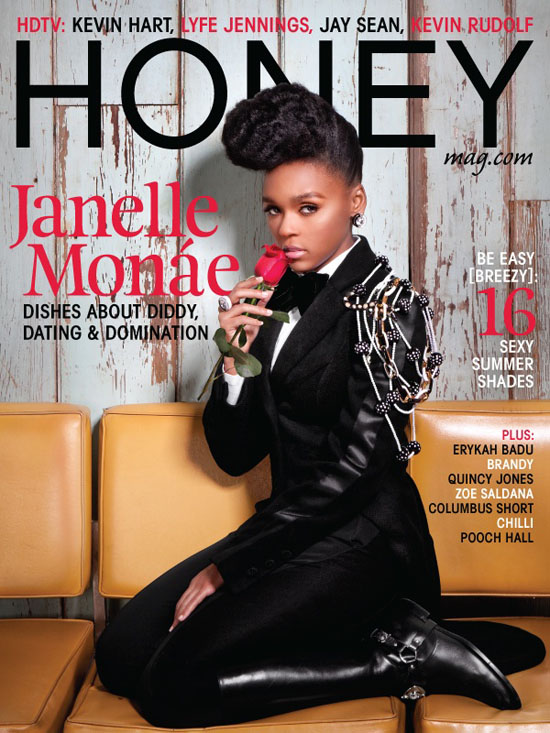 Bad Boy recording artist Janelle Monae is featured on the cover of the latest issue of Honey Magazine. In the mag's April issue, the multi-genred singer discusses her first meeting with Diddy, her new album, her new video and what her closet looks like (she tends to always wear black tuxes). Peep a few excerpts from the full interview below!
What was the inspiration for the "Tightrope" video?
"The song is about balance. I'm an artist and I think it's important that we don't think too high or too low about anything, whether it's praise or critical advice. Everyone thinks they're a critic. I wanted to empower individuals but in a fun and funky way. Not a preachy type of way. We had a lot of fun shooting the video. It takes place at the Palace of the Doges. I've heard great things about this place, Jimi Hendrix [and] Charlie Parker [performed] there. I got the opportunity to go there and really study the vibe. This was a time when dancing was forbidden, so I re-enacted a particular rebellious scene that happened. You will get more narratives of my experience at the Palace of Doges as we continue to finish the visuals. It's an introduction to what it was like staying at this historical building."

Describe the sound of the new album?
"I like to think of my music as very trans-formative. If you listen to the album from the beginning to the end, you will be transformed. It's an album that deals with self-realization as well. You start to realize things about yourself you didn't know. One big emotional picture for the mind."

What does your closet look like? Is the tux really your daily uniform?
"Exactly like that. I bathe in it, I swim in it, and I could be buried in it. A tux is such a standard uniform, it's so classy and it's a lifestyle I enjoy. The tux keeps me balanced. I look at myself as a canvas. I don't want to cloud myself with too many colors or I'll go crazy. It's an experiment I'm doing. I think I want to be in the Guinness Book of World Records."
Do you find time to date?
"I do. I think that love is very beautiful and it's an energy that I love having. I do date and I do have someone that I love. Someone that understands me very well and encourages me to be the best person and artist I can be. I couldn't ask for a better android."

Describe how you felt when Diddy approached you?
"Big Boi from OutKast called me and said that Diddy was trying to get in touch with me. He said that [Diddy] loved what I was doing online. During that time I was releasing my own material independently, so he flew down to my release party and saw my performance. He said "Whatever it is that you need me to do from a business standpoint to a promotions standpoint, I will do." He said he loved the art that I was creating and he just wanted more people to know about it. And he was a man of his word. It's a partnership. I already have a record label, my team. We are self-contained, so that was the one thing that worked with us to be able to creatively remain in control. I don't have any horror stories; I think he is a wonderful guy, very supportive. He is a believer and I love him for that. He is an Archandroid."

Were you surprised that Diddy took interest?
"There was a part of me that says why wasn't he? I don't think he is a stupid guy at all, very smart."
Be the first to receive breaking news alerts and more stories like this by subscribing to our mailing list.