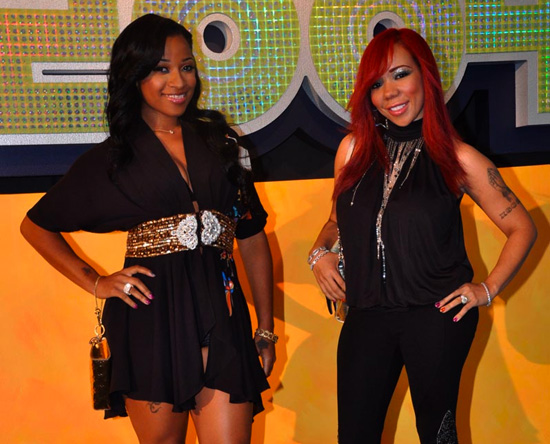 BET's top reality series "Tiny & Toya" is back with an all-new season packed with drama, laughter and self-discovery. Season 2 of BET's "Tiny & Toya" premieres tomorrow night (Tues. Apr 13) at 10 PM. In this season, Tameka "Tiny" Cottle and her best friend Antonio "Toya" Carter will continue to uplift each other while balancing matherhood, family, fame and working on their own business. Via press release:
A journey familiar to many women, viewers will watch Tiny as she raises her children, expands her businesses and takes the next steps in helping her family deal with her father's Alzheimer's disease.  For Toya, family remains at the center of her life as she continues to build a solid foundation for her spunky eleven year-old daughter, Reginae, confront her mother Anita with "tough love" while she continues to fight her war with drugs, all while entertaining a love life of her own.

Last season TINY & TOYA garnered 3 million viewers, taking the number one spot for Original Series "premiere" in BET history. The new series also gave viewers a peek behind all the glitz and glamour and highlighted their personal strength and commitment to staying true to oneself. TINY & TOYA is executive produced by James DuBose of DuBose Entertainment and BET Networks and co-executive produced by Tameka "Tiny" Cottle for 1 Lucky Girl Entertainment and Antonia "Toya" Carter for Visual Beauty Inc.
We've got the trailer for Season 2, plus bios for both ladies waiting for you after the break…
SEASON 2 TRAILER
TINY'S BIO:
"I can put my mind to doing anything I want to do. …Things are not important until I say they are."
It's been a long time since Tiny sang with multi-platinum R&B group, XSCAPE. A long time since the Soul Train Awards and her Grammy for writing the TLC megahit "No Scrubs." A long time spent primarily with her fiancé, rap superstar T.I., her children, and her parents. Which is just the way she wanted it.
But things are changing. Last season, T.I. went to prison for a year and a day; her beloved father, Charles' Alzheimer's disease progressed to the point of near debilitation, and slowly but surely, Tiny turned back to her music. Despite T.I.'s disapproval, she went back to work at the thing she knows and loves better than anything—her music. She didn't start singing again, didn't go that far, but by producing her own girl groups, she was able to use her experience and her talent and still keep the peace with her "honey."
This season, she takes her music to the next level. Showcasing a couple of girl groups in Atlanta is one thing, but now she wants to put them on her own label and get national distribution. And something else… maybe it's because her daughter, Zonnique, is in one of the groups, the OMG Gurlz—which brings back a lot of memories from back in the day—or maybe it's just being around music again. Whatever it is, Tiny is starting to sing. For real. And despite knowing how T.I. feels about her going back to work, she's starting to sing again anyway. The drive to perform is a powerful one, and Tiny's no longer willing to fight her own innate desire to make a comeback.
But with Tiny, it's never just about career. Her father's continued deterioration is forcing Tiny to come to terms with what it means to lose a loved one to the ravages of Alzheimer's. Tiny's mantra has been "try not to think about it so much," but she's discovering that denial is no longer an option. Her mother, Dianne—the heart and soul of the family—is going to need help very soon, and Tiny will have to step up and share in this labor of love.
A house full of kids, a fiancé in prison, a burgeoning career and a dying father. Life. And, as usual, Tiny is right in the middle of it.
TOYA'S BIO:
"The old Toya just was afraid of everything. And you know, the new Toya — She's willing to venture out and just take chances. I'm loving the new Toya."
When she was 12 years old, Toya met Dwayne Carter in their hometown of New Orleans, Louisiana. By the time she was 14, they were in love, and she was pregnant. By 22, he'd become "Lil Wayne," and she was a divorced single mom, living in Atlanta.
Last season, Toya struggled against the insecurities that had long trapped her. She found the courage to write an autobiography, Unwrapped: Life Before and After Lil Wayne, to help other young girls who are scared and alone. With a drug-addicted mother and absentee father, "the old Toya" knew all about scared and alone, but by the end of the season, "the new Toya" had come to terms with her past—she'd realized she can't change her mother, and she'd even convinced younger brother Rudy to clean up his act and move in with her. She'd even broken free of Wayne, going on her first blind date with NFL player, James Hardy, who was cute and sweet and an all-around gem.
Now, Toya is ready to jump into a bright new future. But when you've had a troubled past and little guidance, how exactly do you do that? Carefully. That's how.
Take James, the world's best blind date ever—is this what she wants? Another celebrity? Another powerful man with another big career? What happens to Toya in that scenario? And just as important—what happens to Reginae? For a woman who has spent half her life focusing on her nearly 11-year-old daughter, Reginae, motherhood comes first. And what about her own mother? She knows she can't change her, but can she get Anita to change herself?
Maybe what Toya really wants more than anything is to help the little girl inside her who never got to be a daughter. The little girl who still needs her mom. And Toya knows Anita needs to be a mom. Maybe she can 't change her mother, but what she can do is get Anita to take a bold step and check herself into rehab. After all, if she can't use her money and privilege to help her family, then what's it all for anyway?
Be the first to receive breaking news alerts and more stories like this by subscribing to our mailing list.