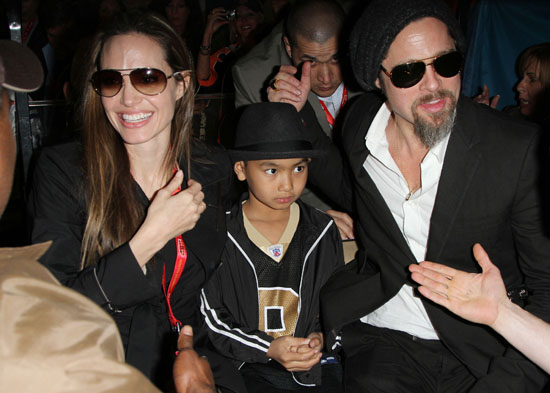 We knew it! Angelina Jolie is really CRAZY! In a bombshell interview with In Touch Weekly, Angelina Jolie and Brad Pitt's former bodyguard puts the REAL Angelina Jolie on blast:
"In my opinion, the real Angelina is self-centered and a control freak. She has no patience at all. She doesn't do things out of the kindness of her heart. And she's totally psycho."

While Brad is laid-back and patient with his kids' often wild behavior, Angelina is anything but. "She screams and yells a lot, then walks away," Bill says, explaining that Angelina would often "disappear into her suite for hours," leaving staffers — and Brad — to deal with her children.

"She would punish them with silence," says Bill, adding, "I think she could be abusive at times in a mental way." If the children were to get upset by her withholding behavior, he says, Angelina didn't seem to care. "She is not moved by tears," he explains. Still more disturbing, he recalls, Angelina has a "quirky habit" of "giggling when one of her kids would start crying."
This is sad, but why is Brad Pitt still married to dating this crazy woman? Brad can literally have any woman that he wants, but yet, he's putting up with this psycho's mess? Things that make you go "hmm…"
Be the first to receive breaking news alerts and more stories like this by subscribing to our mailing list.