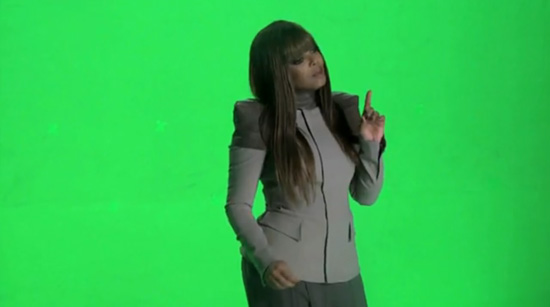 Here is a behind the scenes look at Janet Jackson's new music video for "Nothing," which will be featured on the soundtrack of Janet's new movie "Why Did I Get Married, Too?" due for release in theaters Friday (Apr 2). The video for the song, which was shot last week, will premiere sometime this week. Check out the behind the scenes sneak peak below!
Meanwhile, Janet recently revealed that "Nothing" is only a buzz single for "Why Did I Get Married, Too?" and is not the debut single for an upcoming album. In fact, the 43-year-old singer/actress says that she's not even working on an album! Via Rolling Stone:
"There was a time where I was actually in the studio and I was recording, but I'm not working on an album," she says. "There have been a lot of record labels that have asked me to sit down and talk with them, but I don't know if I want to do something completely independent, or go with a major." Discipline was Jackson's first disc on Def Jam after she left her longtime label Virgin.

So what about the new songs? "Nothing" is a one-off she co-wrote and co-produced with Jermaine Dupri for the new Tyler Perry film Why Did I Get Married Too?, and the lyrics reflect the tensions and turmoil between characters, like Angela's trust issues with Marcus ("You can even have the password to my phone"), as well as her own character Patricia's guilt and regret over Gavin ("We should cherish every moment like it's the last"). As for the second song, Jackson said she did it as a favor for Rodney Jerkins, for "fun."

When Jackson does return to the studio, she's not sure whether she'll work toward a classic pop album (as "Nothing" might indicate) or do something more dance club-oriented (like "Heartbeat Love"): "I haven't decided on exactly where I want to go or what I want to do."
Be the first to receive breaking news alerts and more stories like this by subscribing to our mailing list.