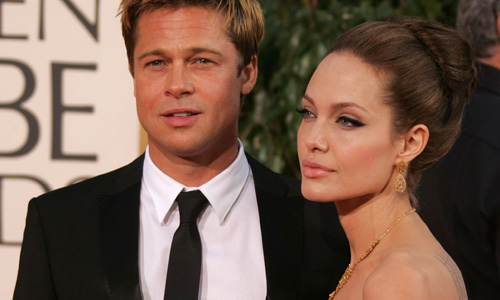 Out of nowhere, Angelina Jolie and Brad Pitt have been all in the public eye after a several month hiatus, which lead many to believe that the couple was on the verge of breaking up. In the past couple of weeks, the super couple has been spotted at red carpet events, the Super Bowl, and now Angelina Jolie has made her way to the Dominic Republic:
Fresh off her Saints' Super Bowl win, Brad Pitt's other half zipped down to the Dominican Republic Monday (Feb 8) in her role as Goodwill Ambassador for the United Nations High Commissioner for Refugees. There's no word on how long Jolie's trip will last, but so far her itinerary has included visiting with displaced survivors of the still-devastating Haitian earthquake in the pediatric wing of Santo Domingo's Dario Contreras Hospital and meeting up with Dominican president Leonel Fernandez.

Not bad for day one. Jolie, who along with Pitt donated $1 million to Doctors Without Borders, is expected to arrive in Port-au-Prince today. And that's something not even we can snark on.

SOURCE

We think that it's great to see Angelina doing what she does best…..helping people in need. But, we think that it is still interesting how Brad and Angelina were nowhere to be found for a few months and now they are all over the place.
Be the first to receive breaking news alerts and more stories like this by subscribing to our mailing list.