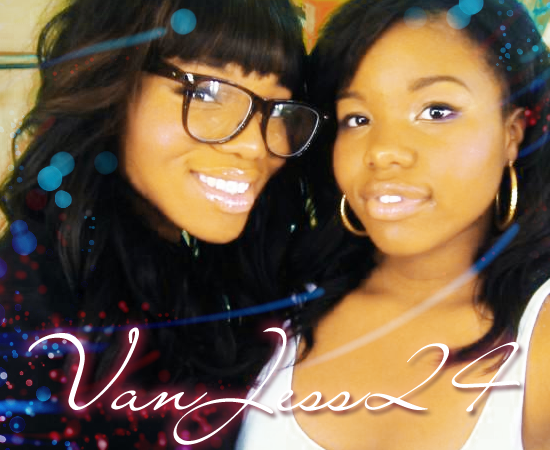 For this week's YouTube Friday, we have two sisters who have been making some splashes around the popular video-sharing site.
Born to Nigerian parents, Ivana (18) and Jessica (17) Nwokike grew up in the African country until the ages of seven and nine. Growing up, both Ivana and Jessica were surrounded by music whether it be Elton John or Michael Jackson. They both recall watching music videos and recreating the dance moves from big acts like the Spice Girls, Britney Spears and TLC back in the day, and watching tapes from the singers their mom brought to Nigeria. "We definitely grew up singing, and we don't remember a time we weren't trying to sing," the ladies told Gossip On This.
Their influences include Destiny's Child, Beyonce, Alicia Keys, Mariah Carey, Whitney Houston, and the rest of the "diva" singers. But they also draw inspiration from British soul singers like Amy Winehouse, Duffy, Adele, and today's newer artists: Justin Timberlake, Lady Gaga, and Ne-Yo. To say that their harmonies are "on point" would be an understatement. So much that their upload views have exceeded 5.2 million. The duo has decided to take up the name VanJess and just in case you're wondering, Ivana wears glasses and Jessica is usually on the left in their latest clips.
Follow the break for videos from VanJess and our short exclusive interview with the talented sisters!
"TELEPHONE" BY BEYONCE & LADY GAGA
"HARD" BY RIHANNA
"OBSESSED" BY MARIAH CAREY
GOT: When and why did you two decide to start making videos together?
VANJESS: We decided to start making videos together about January 1st of 2009.
Ivana: We always watched videos of people singing on YouTube, and one day I thought "Hey, maybe we should give this a try as well." It started off more of a fun thing, to see if people would actually watch. Then, I realized it would be a great way to get our voices heard.
Jessica: I thought it would be interesting to put up videos b/c I noticed there weren't many super popular black young female YouTube singers (besides Dondria and Priscilla Renea) and I thought maybe we could change that, and inspire black girls our age to put up videos and take risks like we started to do.
GOT: If each of you could compare yourself to one artist, who would it be and why?
JESSICA: I'm definitely nowhere near as talented as her, but I'd say Beyonce. I feel like she has worked so hard to get to the level she's at now, and she never rested on her talent and always tried to be better. That's what I want to do, and those are my goals. Also, she comes alive on stage even though she is calmer off stage, which is something many people tell me as well.
IVANA: I don't think I can compare myself to another artist, but my voice is very similar to Mary J. Blige I've been told!
GOT: Have you written any songs of your own? If so, where can they be heard?
VANJESS: Yes. However we've only shown one to the public, in the form of an acapella YouTube video. We hope to put more out soon, and when we do they will be on our MySpace page and YouTube page.
GOT: Have you ever entertained the idea of recording an album or a sort of mixtape?
VANJESS: Yes, most definitely. Creating an album is on our 2010 to do list, just to even record would be amazing.
GOT: What would you say have been your biggest accomplishments since entering the music scene?
VANJESS: Our biggest accomplishments have been getting found by our managers and our Bad Romance cover on YouTube getting past 1,000,000 hits.
GOT: Have you heard from any of the artists of the songs you have covered on YouTube?
VANJESS: Recently, we covered a song called "Ego" by British girl group The Saturdays and one of the members (Rochelle) expressed via Twitter that she really liked our cover and thought we were very talented, which was amazing because we are HUGE fans of theirs.
GOT: Have you been in contact with any labels?
VANJESS: Not as of yet but hopefully in the future!
GOT: How hard has it been for you to get yourself out there and noticed?
VANJESS: It was actually a struggle at first, b/c our videos weren't an instant success. It took us a while to develop a comfortable formula and you can sort of see the progress form our earlier videos.
GOT: If you could collaborate with one male artist and one female artist, who would they be? Why?
VANJESS: Ne-Yo because not only is he an amazing singer and performer, he also writes amazing songs and we would love to collaborate with him.
Lady Gaga because her creativity is so genius, and she is such an amazing artist it would be an honor to work with her.
GOT: Where do you see yourself ten years from now?
VANJESS: Being signed, selling platinum albums, going on tour and hopefully winning a Grammy!
GOT: Final word from VanJess:
VANJESS: Thanks for featuring us Kenni; we appreciate it! And Keep looking out for us, watching our videos, and we will continue working hard making music and breaking out in the music business.
By: Kenni Nwajagu
Contributing Editor for Gossip On This
Make sure to check out VanJess' Youtube and Twitter page.
GOT readers:
we are asking for your help! If you are subscribed to or know of an artist or group on YouTube that you think everyone should hear about (even if it's you), let us know! Our only requirement is that they are unsigned. From there, we will follow up on your request and get in contact with them. You can send me an e-mail at
kenni@gossiponthis.com
or hit me up on twitter:
twitter.com/kenni329
. We want to continue this feature for a long time but we will need your help. Thanks!
Be the first to receive breaking news alerts and more stories like this by subscribing to our mailing list.