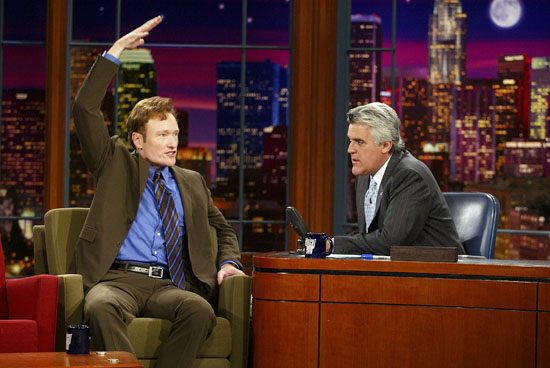 We're sure you've caught wind of all the drama surrounding NBC's late night talk show, Jay Leno and the newly departed Conan O'Brien. NBC recently experimented with the idea of giving Jay's show the 11:30 PM slot and bumping Conan's show to midnight. But Conan wasn't having that so he walked away from the network with a $33 million check.
And now Jay Leno has been painted as a "bad guy" so he went on Oprah to respond to everyone who is saying that he should take the blame for Conan O'Brien's exit. Here's what Jay Leno told Oprah during his appearance on her show Thursday (Jan 28):
"I always felt I was doing the right thing," Jay said, looking puzzled.  "How can you do the right thing and have it go so wrong?"  He said he remembered thinking, "Maybe I'm doing something wrong if this many people are angry and upset over a television show. I had a show. My show got canceled. … Who wouldn't take that job? …  I think I'm a good guy. Am I not a good guy?

"I wasn't the reason. The reason was ratings."
And here's what Oprah had to say about the situation:
Oprah said, "This is what I think: I'm really surprised that so many people are against you. I think people don't understand the way television works. I could understand people thinking you were selfish if you owned the show. People think you stole the show when in fact it wasn't your show to steal."
Be the first to receive breaking news alerts and more stories like this by subscribing to our mailing list.