We told you Keyshia Cole was having a little boy 🙂 And her good friend R&B singer Monica confirmed it and her recent engagement to NBA basketball player Daniel "Boobie" Gibson via her Twitter a couple of days ago, hinting that Keyshia might have her own Twitter page very soon.
Wanna say congrats to my girl. It's so beautiful to be in love. Too bad people can't keep a secret like me. Lol. Oh and KC is thinking about joining Twitter. Lol. She said I gotta show her. So we will see. Anyway love ya KC, your a great godmother to my boys so I'm 200 percent sure your gonna be a great mother & wife. God is taking u just where he wants u to be, u have his favor & u have me. Think NOTHING of others and they're opinions. Stay prayed up and let God be your guide and ONLY source of strength. Love ya twit-fam…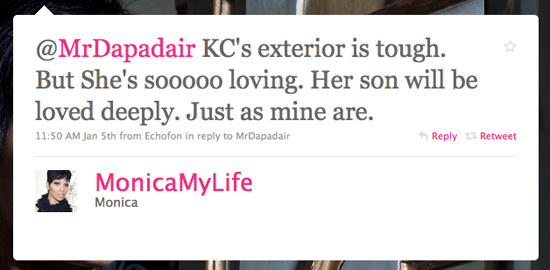 Be the first to receive breaking news alerts and more stories like this by subscribing to our mailing list.