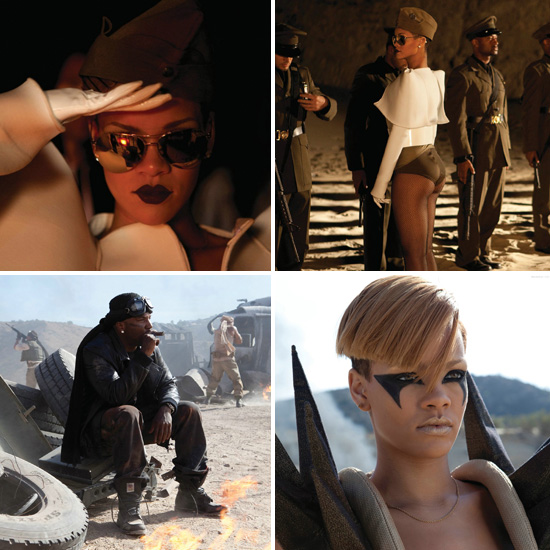 Def Jam's golden girl Rihanna premiered her brand new music video for "Hard," the latest single from her fourth studio album Rated R, in stores now. The track features rapper Young Jeezy, who also makes an appearance in the Melina Matsoukas directed video.
"Hard" is a high-gloss, expensive-looking thing, featuring Rihanna wearing a Mickey Mouse helmet (à la Gottfried Helnwein and Marilyn Manson), Rihanna striding through the desert in gigantic spiked shoulder pads (à la the Legion of Doom), tons of drill-team extras, a pink tank, plenty of explosions and an assault rifle or two. And Young Jeezy.

It's clearly a big-budget production, but for all the expensive ephemera, what shines most about the video is Rihanna. She was born for the spotlight, to be the name atop the marquee, and in "Hard," that's more than apparent. She struts, she swaggers, and she's clearly aware that this entire fantasy world has been created just for her, and so she works it for all it's worth. If she weren't already such a huge star, I'd call it "a star-making turn." Instead, let's just call it "par for the course."
Continue reading to peep the new video! We've also got some new promo shots of Ri and Jeezy for the video
Like the name implies, "Hard" is plenty tough. Rihanna said she loved the song immediately, and it shows off a side she's trying to cultivate on R, the take-no-prisoners, throw-abandon-to-the-wall bad girl.

This is Rihanna at her most flamboyant, her most gruff, and you can tell she's loving every second of it, like a little girl given the keys to a massive wardrobe. There's going to be plenty of vamping, not to mention more than a few costume changes. Only, on "Hard," she's also playing bombs and bullets and bravado too. She's reporting for active duty. She's an army of one.

SOURCE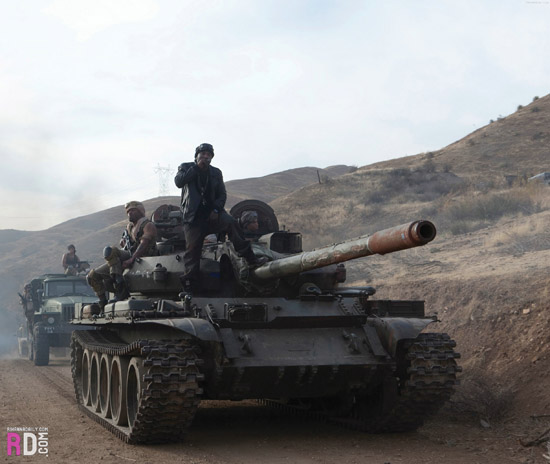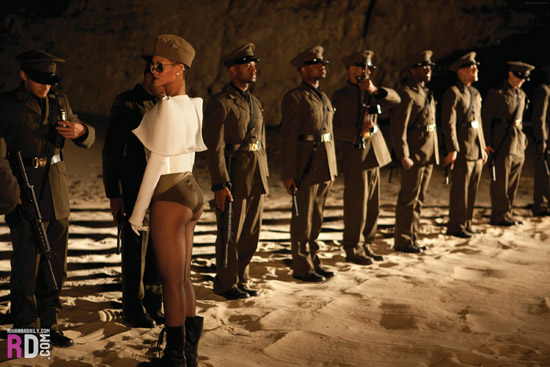 Be the first to receive breaking news alerts and more stories like this by subscribing to our mailing list.