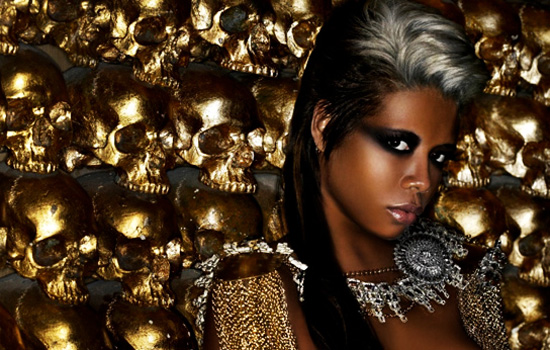 Kelis, who is currently going through a very public divorce from her estranged rapper husband Nas, spoke to Honey Mag recently about a lot of hot topics, including her new life as a mother, her divorce from Nas and what she thinks about newer artists on the scene like Rihanna and Cassie "jacking her style." And believe it or not, she really doesn't mind which is pretty surprising.
Going back to your site, the first thing that caught our attention was your hair. What inspired the silver and gold look?
Oh, I don't know, I just feel like an animal. I kept thinking of a wolf or a husky and that's what they look like.

Are you the type to wake up and say "I want to switch my hair up today" or is it premeditated?
Um, it's a little bit of both.

Is this your favorite look?
Mmm, no, it's just for right now. Every look I've had is my favorite look (laughs).

In regards to you, that seems to be the consensus for a lot of today's female artists as well. How do you feel about all these half-shaved heads on chicks like Cassie and Rihanna?
Well I was definitely the first to do it. The only other person I would give credit before me is Pepa. Other than that, I expect them to copy me. What else are they supposed to do? They're young. God bless them.


It gets interesting though because you've reached a point where you can actually see the artists of Generation Kelis, yet it's not like you've retired.
Yeah. At the end of the day, everyone is just waiting for someone to do something new and if it's generally me, then I'll take that responsibility (laughs).
For more of this in-depth interview, hit up HoneyMag.com!
Be the first to receive breaking news alerts and more stories like this by subscribing to our mailing list.