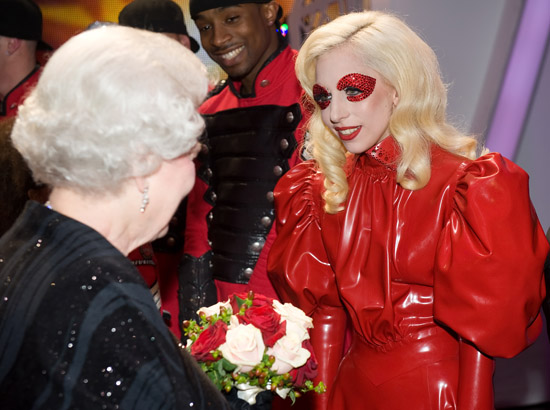 Pop singer Lady Gaga was granted the once in a lifetime opportunity to meet and perform for the Queen! Here's a picture of Lady Gaga greeting Queen Elizabeth II following her Royal Variety performance Monday (Dec 7) in Blackpool, England. Gaga performed "Speechless" at the Queen's Royal Variety Concert.
The singer, dressed in a red PVC dress that included a 20-foot cloak and Elizabethan-style ruffle, performed her ode to her father, "Speechless," at the show. According to The Sun, the Queen chuckled when the pop star curtsied for her and shook her hand, and before performing, Gaga paraphrased John Lennon's famous line before the Beatles' performed for the Queen in 1963: "Good evening, Blackpool. Let me hear you rattle your jewelry."

The Daily Mirror reported that Gaga had initially intended to include her suicide-act in the performance but elected not to. Instead, she he sat on a swing suspended 12 feet in the air while her piano was suspended on stilts.

"I wanted to do the suicide scene but was told it wouldn't be appropriate," Gaga, who "died" during her VMA performance in September, reportedly said about her performance, noting she had no hard feelings over the change. "I've also had to tone things down generally. But it doesn't matter because I'm a massive fan of the Queen. I was so excited and have even been practicing my curtsy."

SOURCE
More pics of Lady Gaga greeting the queen and performing "Speechless" below…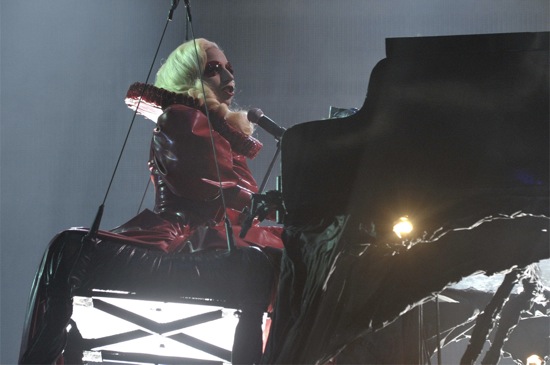 Be the first to receive breaking news alerts and more stories like this by subscribing to our mailing list.