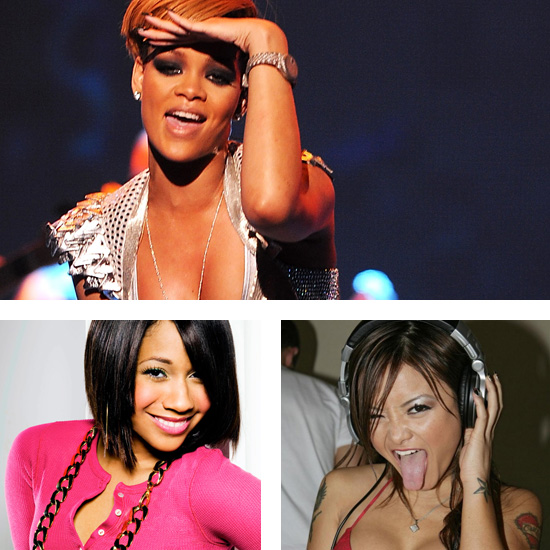 We can honestly say we did not see this one coming! Y'all remember what seems like ages ago when singer Tiffany Evans made a comment about the demonic undertones in music and the things that go on in the industry, right? Well, Rihanna was a guest on Big Boi's Neighborhood radio show yesterday and when she was asked what person she would "turn off" if she had the chance, she went in on both Tiffany Evans and Tila Tequila:
[audio:http://gossiponthis.com/wp-content/uploads/2009/12/interview_rihanna_02.mp3]
Tiffany Evans. She's just mouthing off for no reason and acting like she knows me. The whole devil worshiping thing, it was a whole… she put out this whole statement…

Oh, Tila Tequila! Hell yes. Same thing. I don't like when people talk about me and don't know me and don't know what they're saying and sound stupid. I saw her backstage at the AMAs one year. She was just standing there with a drink in her hand, even though she doesn't drink she had a drink in her hand.
Well, little Ms. Evans heard about it and took to her Twitter once again to address Rihanna's comments and ended with a diss at Rihanna's singing talent:
I just wanna say that I personally do not have beef with Rihanna. Why would I have any beef with someone I don't even know? It's stupid. Whatever statements I made about the industry was not geared towards Rihanna in any type of way. What I said about RussianR was blown way out & I have never said any of the things these blogsites have said that I said such as her being a devil worshipper, RRbeing satanic and all of the other nonsense that came along with it.

So to Rihanna as a young woman with total respect I apologize for the huge misunderstanding. In this industry things are always misunderstood or taken way out of context. So relax, this type of "ish" always happens.

Oh one more thing, about her calling me out with remote thing on big boi LOL I thought it was funny. Too bad I can Sang! Lmao
Tila Tequila, on the other hand, did not keep it so clean. The girl went way in on Rihanna, commenting on her rude behavior backstage at awards shows, her being drunk. Oh, and she also claims that Rihanna has herpes:
RiRi….babygirl….First of all, I have NEVER been to ANY AMA Award show….so why are you lying about that?  However, I DO remember seeing you at the MTV MUSIC AWARDS, so maybe that's the one you were talking about, but who knows, you probably don't remember because you're so full of yourself and always drunk so I don't blame u for getting confused.

Yes, of course I am no where near you as far as musical Success, and I give u Props for that.  I even liked a few of your songs like "Disturbia" and thought your live performance was pretty sexy, even though you sing REALLY OFF KEY when u sing live, but at least you're not lip-singing! Props for that!

So everyone, yes…..I heard from legit sources, that is the HUGE SECRET our prestine, perfect little Princess RiRi, the "IDOL" has been hiding from the media. A very close source of mine, who works int he same legal camp as Rihanna, has told me that the reason why Rihanna wasn't speaking out about the CHRIS BROWN incident is because there was a catch 22 in it. Rihanna has herpes, and…. well…..I don't wanna put anyone else on blast, but Rihanna has herpes and gave someone else herpes that she had slept with.

My sources are very legit, and they work in Rihanna's legal camp, and that is how I know! So Rihanna has herpes, STD's & was scared to speak out about it cuz she didn't want the world to know that she has herpes and infected someone else with it! Bad Rihanna!

Sorry I had to tell the world your DIRTY SECRET, but you left me no choice girlfriend.  I knew about your secret for A VERY LONG TIME, but I never told anyone because that was not my business……but since you wanna play dirty with me……oh….you best believe I will give it to you good girlfriend! POW!
To read Tila's full response, click here.
We are completely stunned at this whole thing. Tila Tequila may have taken it a bit too far with her response. We're kinda feeling a bit bad for Rihanna if this is true. If we were Tiffany Evans, we would get out of this ASAP. No more comments or anything else cause this is about to get dirtier than it has already gotten. Round 3…here it comes…
Be the first to receive breaking news alerts and more stories like this by subscribing to our mailing list.