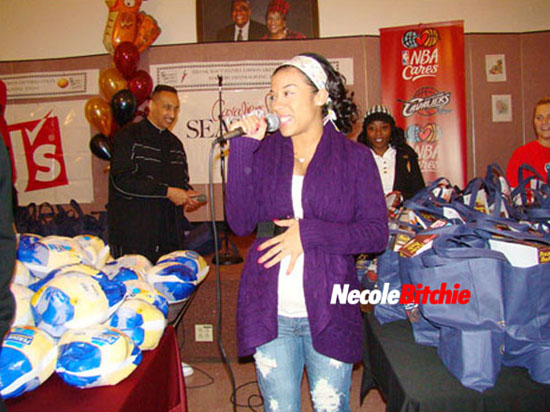 R&B singer Keyshia Cole and her man Daniel "Boobie" Gibson of the Cleveland Cavaliers gave away turkeys and groceries to needy families at Bethany Baptist Church in Cleveland a couple of weeks ago. Now, that's all fine and dandy, but homegirl's belly definitely looks a bit rounder than usual … and she has been spending a lot of time in Cleveland lately. And let's not forget how she's been MIA these past few months, which makes everything add up to her being pregnant. Why else would she be hiding?
We'd also like to throw in this little gem we grabbed from our homie Necole Bitchie, which basically confirms it all.
"Necole, I am from Cleve and was at that event as a volunteer for one of the companies giving away food. And she is def pregnant. They were instructing people to shoot the upper body only. I saw it with my own 2 eyes. This event was in the Steeleyard Commons. And a guy that works in the Beachwood mall told us he had seen her in the LV store and she was big. And that was prior to me seeing her myself." -via comments

And if that's not enough evidence, a friend of mine who lives in Cleveland called yesterday after he saw my post and said that he saw Keyshia Cole at a game recently and her stomach was huge.
So congratulations to Keyshia and Daniel! It's about time someone in that family other than Frankie and Neffe had some kids…
Be the first to receive breaking news alerts and more stories like this by subscribing to our mailing list.