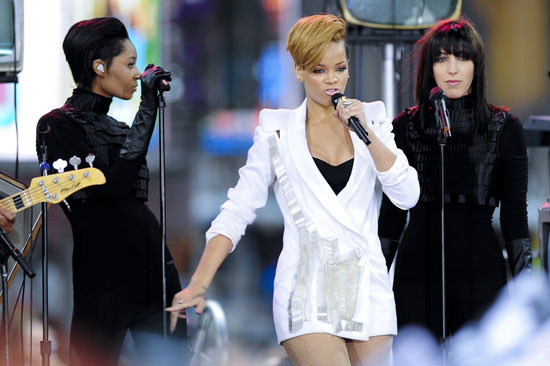 Hard at work promoting her brand new album Rated R, pop singer Rihanna performed a small concert Tuesday morning (Nov 24) in New York City outside ABC Studios for an episode of "Good Morning America." The "Russian Roluette" singer had a bit of a wardrobe malfunction just before she was to hit the stage. On her way to the taping, of which she was already running late to, the zipper on her dress ripped and because she didn't have time to change, she just had to make do.
As a result, Rihanna tentatively took the stage to perform songs promoting her new album Rated R, clinging on to her ruined dress in the process. She held back on her usual array of body-bending moves, fearing the strain would cause the frock to fall off her. She said: "My dress! I'm a little too fat right now. The zip busted in the back. They're like, 'You're a minute late!' … I wanted to stitch it up but I couldn't."
Rihanna also revealed that Rated R is not what she wanted to call her new album. Read on to find out the original title!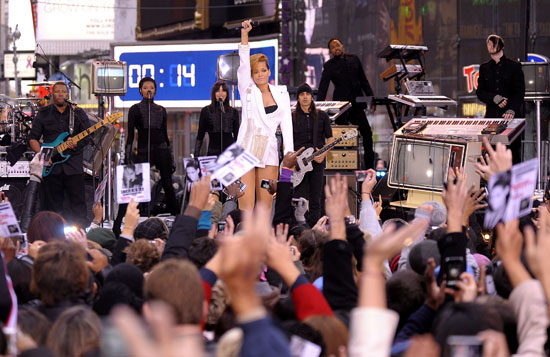 She said: "I actually wanted to name my album Such a F**king Lady, but a couple of stores, a couple of major outlets, didn't allow that. That was the title for a while, but Rated R made more sense because of the overall story. It's a movie really, the album. But Such a F****** Lady – we take everything back to that – especially in our style."

Meanwhile, Rihanna is reportedly set to earn a hefty $500,000 (£300,000) to perform at a New Year's Eve bash at the Emirates Palace Hotel in Abu Dhabi. The Umbrella star was scheduled to play her first ever Middle East gig in May, but pulled out in the aftermath of her assault by ex-boyfriend CHRIS BROWN. A source added: "This is a make-up date."

SOURCE
WAIT YOUR TURN
RUSSIAN ROULETTE
UMBRELLA
PHOTOS: GETTY / WIRE
Be the first to receive breaking news alerts and more stories like this by subscribing to our mailing list.