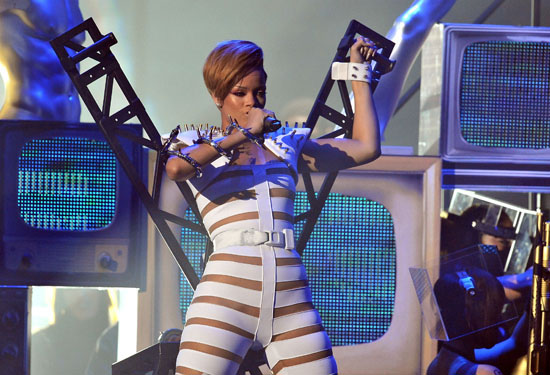 We really wish people would stop throwing around the phrases "comeback" or "comeback performance" when mentioning Rihanna. Why? Because she didn't go anywhere! In fact, ever since that whole Chris Brown beat down thing, she's been at the top of blogs AT LEAST once a week (sometimes daily).
With that said, her performance at the 2009 American Music Awards Sunday night (Nov 22) was okay if you only factor in the theatrics (lighting, costume, set, her "Rated R" temporary tat, etc.). As usual, her vocals were … "blah" and at the end no one even stood up. The majority of the audience actually appeared to be bored and looked like they wanted RiRi to hurry up and finish her set, which included her debut single "Wait Your Turn" and the Young Jeezy featured banger "Hard." Jeezy didn't come out for the performance, but if he did … he probably would have added some much needed value.
Rihanna's fourth studio album Rated R hits stores today (Nov 23)!
Be the first to receive breaking news alerts and more stories like this by subscribing to our mailing list.