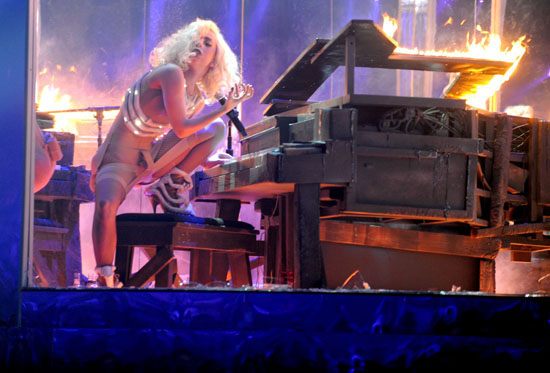 With her the launch of her very first headlining tour just days away and the release of her second studio album The Fame Monster even closer, pop star Lady Gaga performed her new hit "Bad Romance" at the American Music Awards last night. Her performance was so crazy and over the top that she really could have burned herself! Read on to see how…
Gaga started things off with "Bad Romance," wearing a glittering, H.R. Geiger-inspired headpiece and a nude bodysuit, flanked by six pansexual dancers who cavorted and whirled around her. She belted out the high notes, then cast the headpiece aside to get down to some herky-jerky dance moves (no doubt inspired by the "Romance" video), then collapsed to the floor while her dancers crawled behind her. Suddenly, the music stopped, the crowd squealed with delight and Gaga smiled. The she grabbed her mic stand, walked over to her piano (which was encased in glass) and proceeded to smash her way inside.

Surrounded by shards of glass, she straddled the piano bench and began playing the opening refrain of the somber "Speechless," all while her piano erupted in flames. Unfazed, she kept playing as a pair of gas-mask wearing violinists (also encased in glass) added accompaniment.

As the song reached its crescendo, Gaga grabbed for a slew of bottles and, to add to each stab of the violin, she smashed them on the piano. The crowd whooped with delight. The song ended with Gaga striking a pose, her piano still flaming, her body covered in pieces of glass. Naturally, she got a standing ovation. Amazingly, she wasn't seriously injured.

SOURCE
Performing a slow, intimate song live while inhaling dangerous CO2 (Carbon Dioxide) fumes. What the hell will she think of next???
Gaga's new album The Fame Monster hits stores in the U.S., Canada and the UK today (Nov 23) and it will be released in Brazil tomorrow (Nov 24), while a box-set of the release (that will feature the songs from her debut album The Fame) is set to drop a couple of weeks from now on December 15th.
Her "Monster Ball Tour" is set to to kick off Friday (Nov 27) in Montreal, Canada at the Bell Centre.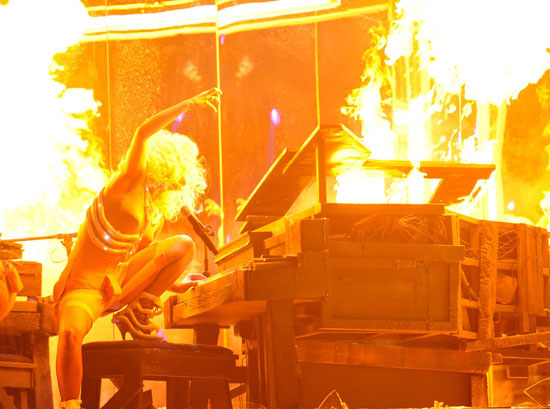 Be the first to receive breaking news alerts and more stories like this by subscribing to our mailing list.