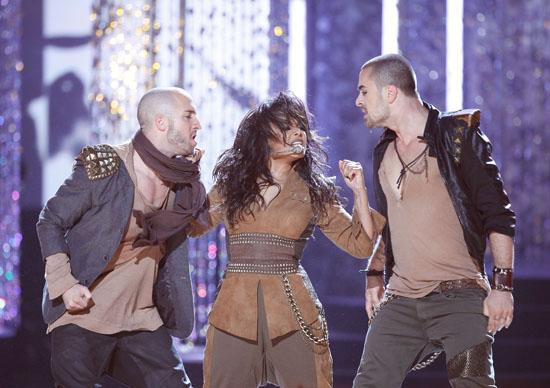 In an effort to promote her new album and pay tribute to her late brother Michael Jackson all at the same time, the Queen of Pop Janet Jackson opened up the 2009 American Music Awards in Los Angeles last night and performed a medley of some of her greatest hits, including her new single "Make Me" (check out the brand new music video here).
Looking fit and sexy in snug tan pants, top and boots, she performed a medley of her greatest hits, beginning with the 1986 chart topper "Control," followed by "Miss You Much," a popular tune from 1989. As Jackson grooved and shook her long hair to the celebrity-studded audience, which included members of her own famous family, the lyrics seemed to be directed at the King of Pop.

"I miss ya much (boy-oh-I miss you much)," she sang. "I really miss you much." Jackson's 7-plus-minute set included her suggestive tune, "If," along with a sample of her new release "Make Me," in which she invites an unseen listener to "make me groove, show me what you do, make me move."

The 43-year-old pop star finished her act with a happy version of "Together Again" — another message to Michael. She looked to the sky as she sang, "Everywhere I go, every smile I see, I know you are there, smilin' back at me."
Janet's new compilation album, titled Number Ones, is in stores now!
Be the first to receive breaking news alerts and more stories like this by subscribing to our mailing list.