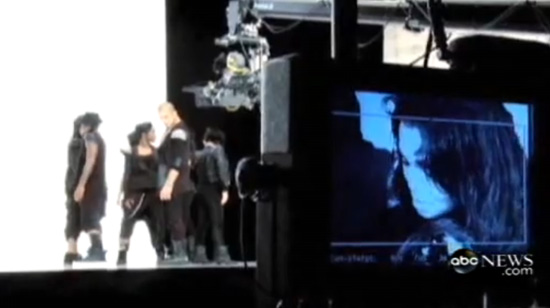 The Queen of Pop Janet Jackson invited ABC's cameras to the set of her "Make Me" video and here a re a few video clips of some behind the scene footage of the Janet & her dancers filming the clip! Janet's Number Ones compilation project hit stores this past Tuesday (Nov 17) and this is the lead single from the album.
This song is kind of hot!
Janet did a radio interview Tuesday morning with a station in D.C. and in an attempt to blast the rumors of she and Jermaine getting back together, she revealed that the pair were only friends and are NOT together:
95.5 WPGC D.C.: Now I wanna ask … you just mentioned Jermaine, and there are so many rumors going around. I don't even know if you care to even talk about it. But, any plans on getting married?

Janet Jackson: No, I know the rumor that you're talking about, and we're not together. We never got back together. He's still one of my best friends though, so people will see us together and in doing so, [people say] 'Oh they're together.' But no, we're not. I love that man.

WPGC: Aww…

Janet: I adore him, I really do. And he's such a sweetheart. but no … we're not together.
Continue reading to see the behind the scenes video!
Be the first to receive breaking news alerts and more stories like this by subscribing to our mailing list.