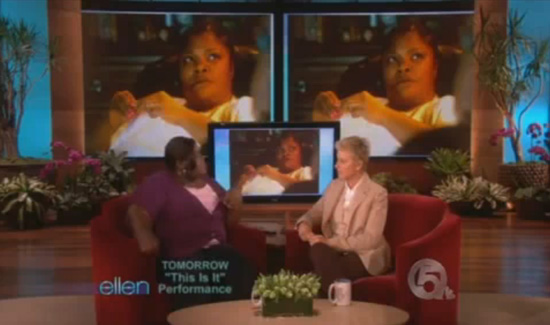 Up and coming actress Gabourey Sidibe sat down with syndicated talk show host Ellen DeGeneres a couple of weeks ago in an interview to promote her new Oscar worthy movie "Precious," set to hit theaters nationwide this December.
We love us some Gabby! Her bubbly personality jumped at us before she even sat on the couch. When Ellen introduced her she came out and danced to Ne-Yo's "Closer" song, later revealing that she and a friend choreographed the whole thing weeks ago before she even knew she would be on Ellen. Big girl got some moves too!
But our favorite part of the interview would have to be towards the end (about 5 minutes into it) when she recalled a funny story about a reporter asking her to give a 30 second preview of her Oscar speech, you know, just "in case" she wins one. And she talked about how she freaked out and accidentally blew up at the reporter.
Ellen: There's so much Oscar buzz going on and you've gotta be excited about that

Gabby: I try not to think about it really because it's so premature, so it's crazy to think about. I just did the London Film Festival and a reporter asked me, "Can you give us a 30 second preview of your Oscar speech?" and I freaked out, like on camera! I was like, "Give me a 30 second preview of your Oscar speech!" I almost punched her in the mouth, I was so mad! [laughing]
Be the first to receive breaking news alerts and more stories like this by subscribing to our mailing list.