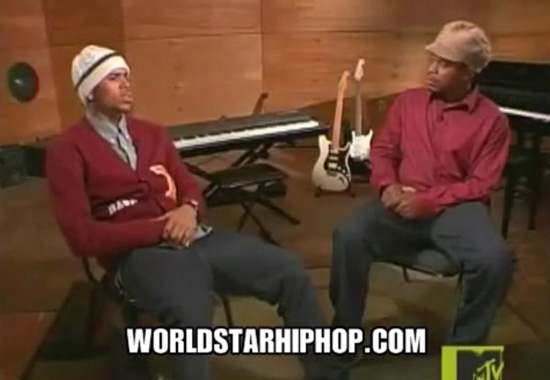 We guess Chris Brown is taking his turn to speak on the incident, even after he and his label put out that all further appearances/interviews would only relate to his new album and not the assault between him and Rihanna.
In a sit down with MTV News correspondent Sway, which aired on TV Friday (Nov 6), Chris talked about his September 2009 interview with CNN's Larry King and how he was afraid how he would come off to the public when all was said and done:
"I was so nervous. I was super nervous. I didn't know what to think [going in]," Brown said. "[There's] really not too much preparing you can do," he continued. "I did a lot of media training and a lot of stuff like that, and it kind of wasn't genuine to me. Everything I was saying was from my heart, but it was kind of controlled. 'Well, don't say it like this, because it will look like that.'"

Brown said he wanted to "just be personable," but the setting was uncomfortable for him. "It wasn't that kind of situation where I could be me," he said. "So I was just: 'I don't wanna say anything wrong.' "

"The point of how I felt and what I wanted to get across came out [in the CNN interview], but I think at the end of the day, with any interview, even with this interview, I'm going to get public scrutiny or criticism regardless of what I say," Brown said. "So I just didn't know what was going to be said. I just wanted to let people know how I felt, at the end of the day."

SOURCE
Continue reading for the full interview!
Be the first to receive breaking news alerts and more stories like this by subscribing to our mailing list.