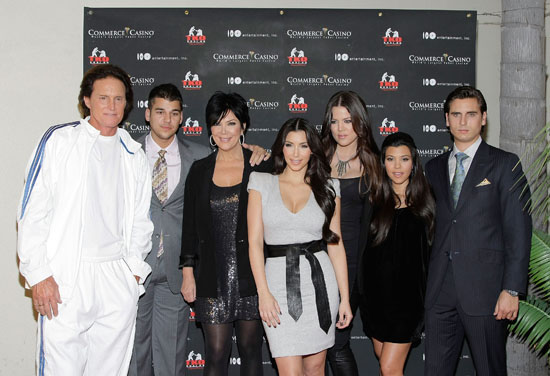 Aww, look at the big happy family! From left to right are Bruce Jenner, Robert Kardashian, Kris Jenner, Kim Kardashian, Khloe Kardashian, Kourtney Kardashian and Kourtney's boyfriend Scott Disick, and all of them attended the Kardashian Charity Knock Out Tuesday night (Nov 3) in Los Angeles at the Commerce Casino. Khloe's husband Lamar Odom, who plays for the Los Angeles Lakers, couldn't make it due to the ongoing NBA season.
Kim, her brother Rob and her stepdad Bruce all got in the ring in the name of charity, while the rest of the family sat on the sidelines and watched their loved ones get beat up.
The event, which was recorded for an upcoming episode of "Keeping With the Kardashians," was held to raise awareness for the Dream Foundation, a non-profit organization that grants wishes for adults with life-limiting illnesses. With close to 9,000 dreams fulfilled already, the charity's goal is to make sure all adults with terminal illnesses get one final wish from the heart granted. For more information visit their official website.
Be the first to receive breaking news alerts and more stories like this by subscribing to our mailing list.