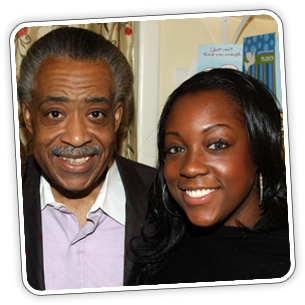 Rev. Al Sharpton's ex-wife and daughter were reportedly arrested Friday night (Oct 31) for resisting arrest after speeding past a patrol car and running through a red light in the Harlem district of New York City. Kathy Jordan and her daughter Dominique Sharpton were pulled over around 7:30 that evening.
When police issued a ticket for the small traffic violation the two women's attitude and mouths become vulgar toward the policeman. Dominique and her mother argued that they were only trying to get around the slow moving patrol car. Sources report Dominique, who was driving, argued against the order and she and her mother were collared for disorderly conduct and obstruction of governmental administration. The two ladies were given desk appearance tickets and were allowed to go home.
"How what was apparently a minor traffic dispute ended up with two arrests with desk appearance tickets is highly questionable and unusual," Michael A. Hardy (Sharpton's lawyer) said. "Reverend Sharpton has been made aware of the details of the matter and will aggressively support his daughter and her mother, despite their announced change of marital status in 2003."
Al Sharpton and his now ex wife divorced back in 2003 after 23 years of marriage. They have two adult children, Dominique (23) and Ashley (22). Dominique currently works for her dad's Harlem based company, National Action Network.
Be the first to receive breaking news alerts and more stories like this by subscribing to our mailing list.