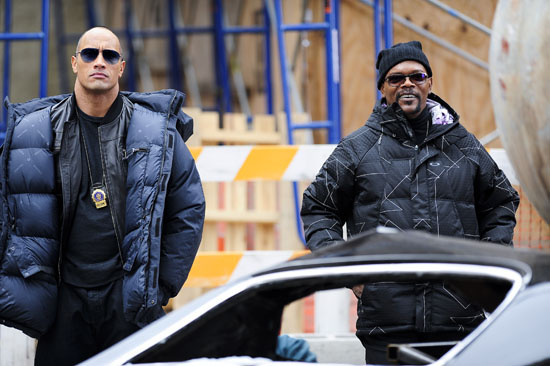 Actors Samuel L. Jackson and Dwayne "The Rock" Johnson were spotted on location in the Manhattan area of New York City filming scenes for their new movie, "The Other Guys" last Friday (Oct 23).
The action/comedy film, directed by Adam McKay, also stars Will Ferrell, Mark Wahlberg and Eva Mendes, and is expected to hit theaters sometime in August 2010.
PREMISE: Allen Gamble (Will Ferrell) and Terry Hoitz (Mark Wahlberg) are partnered NYPD detectives who work in the forensic accounting department and rarely see any action. Gamble is more than happy with his job while Hoitz has been assigned against his will after a public incident with his quick trigger finger. They idolize the city's top cops Danson (Dwayne Johnson) and Manzetti (Samuel L. Jackson), but when an opportunity arises for Gamble and Hoitz to step up, things do not quite go as expected.
Be the first to receive breaking news alerts and more stories like this by subscribing to our mailing list.