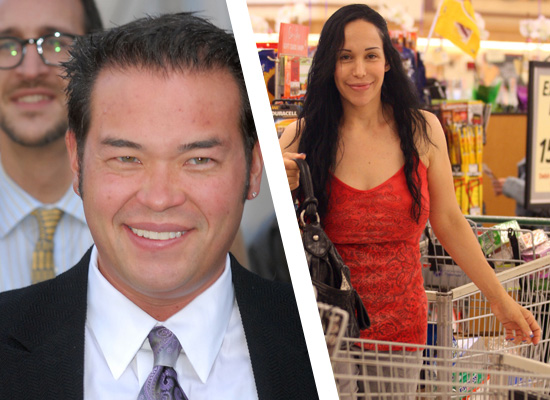 In recent news Jon Gosselin (from TLC's "Jon and Kate Plus 8) and Nadya Suleman aka the Octomom are being offered a million dollars for new television show. (Insert obligatory eye-roll here) Originally, Jon's publicists wanted to keep the information under wraps so they denied the "rumors," but now a source tells the NY Daily News that the show will be indeed be happening.
"Jon's camp got scared because they didn't expect the story to come out so quickly," an insider tells us. "They figured they would issue a denial now while they still work out negotiations for the show."

In Touch Weekly had reported that the father of eight had agreed to go on a date with Suleman for a new reality show called "Jon – Kate = Jon + Octomom."

According to the press release, cameras will follow Gosselin "as he contemplates what hooking up with Octomom could really be like. He's totally creeped out by the idea that if they got married, they'd have 22 kids."
But John is currently in a contract with TLC, so producers will have to figure out how they can work around that. But regardless, the unnamed source says that he'd be foolish not to take up the 7 figure offer.
"Both Jon and Nadya are each looking to bring in at least $1 million for doing the show," says the insider. "For that money, they would be foolish not to take the offer." The insider added, "Jon definitely wants to do the show. His camp is currently trying to figure out how he can film around his TLC contract."
If Gosselin were to accept the offer, it would definitely come across as him trying to "get rich quick," but we all will see when all the details are finely tuned. In any event, it would be CRAZY if he and the Octomom didn't accept the offer.
"Cheaters" producer Bobby Goldstein tells the Daily News he is shopping the show around to major networks as a two-hour special that will air on Super Bowl Sunday. "We don't want it heavily edited," Goldstein tells us. "We just want to show the natural spontaneous reaction of these two media heavyweights when they finally met."

Though Goldstein would not confirm the monetary offer, he did have some words of advice to Gosselin: "He better take the money now because in six months, he'll be doing "Cheaters" for free." Despite the hefty paycheck, Gosselin's manager Mike Heller says the reality star has put the kibosh on any chances of a reality date.

"Jon has not signed on to do any show. He's not interested in this type of television show," Heller tells the Daily News. "Jon could take the offer and look like a joke, but he wants to take the path of seriousness. He's trying to make a change in his life and is turning down this $1.5 million offer to better himself and his kids."