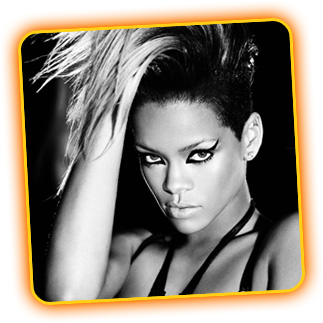 According to reports, singer Rihanna will be debuting her second single "The Wait Is Ova" a few weeks before the November 23rd release of her album, Rated R. Producers Stargate and Mikkel Storleer Eriksen commented on the selection when they found out:
"We were just told that they go for 'The Wait Is Ova'  as next single and that it will launch in a few weeks before the album release. It means a lot to us to be a part of a single-release in this format. … Our song is pretty a typical Rihanna and has a much harder sound than 'Russian Roulette.'"
It also seems like Rihanna is starting the promo train already! She has been added to the performance line up for the 2009 American Music Awards on November 22nd, a day before her album release. Also slated to perform are Alicia Keys, Black Eyed Peas, Jennifer Lopez and Adam Lambert, whose debut CD also debuts on November 23rd.
And lastly, Chuck Harmony, producer of RiRi's new "Russian Roulette" song has taken to his Twitter to reply to Tiffany Evans' comments on Roulette encouraging suicide:
Tiffany Evans? Someone please tell her that I know the songwriter and producer of "Russian Roulette" and we are not devil worshippers. Haha she's an idiot. There are no satanic messages int he music. Dumb ass maybe if we had did a remake of "Promise Ring", then Rihanna wouldn't be a devil worshipper.

People are so closed minded. The song is not literal. Like most provocative art, it's symbolism. Grow up. I'm never going to defend my art…I create it and then its out of my hands. So reviews don't hurt me, but Tiffany's unrealistic take on the song really urked me because idiots breeds idiots. Bottom line, she is in the music business so she understands that the song is not indicative of the artist views, but rather, its the brainchild and vision of the songwriter and producer.

With that being said, for Tiffany to say that the song as a "shining example of devil worship in the music business," she is saying that Ne-Yo and Chuck Harmony are devil worshippers. That's stupid!! That's beyond stupid, it's immature. Artists should understand art, so with Tiffany Evans' rant, we can safely nix the title artist from her bio.
What do you think about this debate? Do you think the song is too dark or are people reading too much into it? Either way, the fact remains that the song ends with a lone gunshot sound. Many are saying they are going to wait for a video to see what the song really means but that makes no sense to us. After all, we all really know what Beyonce's "Ego" was about and it did not come across in the video.
Be the first to receive breaking news alerts and more stories like this by subscribing to our mailing list.