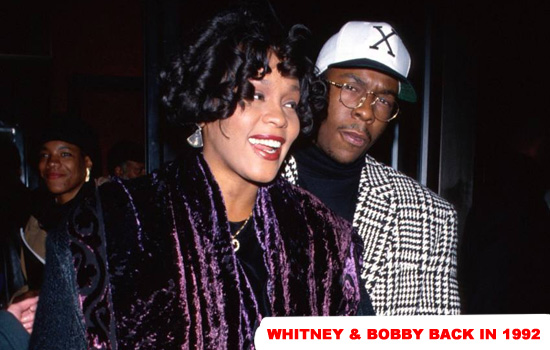 In Bobby Brown's new tell-all book, he claims his whole relationship with R&B legend Whitney Houston was a hoax! Bobby wrote that the only reason Whitney married him was because she wanted to protect her "good girl" image. He says she was also in a "bisexual relationship" at the time, and she knew that being gay wouldn't look good for her career.
"(The marriage) was doomed from the very beginning," Brown writes in 'Bobby Brown: The Truth, the Whole Truth and Nothing But…' "I think we got married for all the wrong reasons. Now, I realize Whitney had a different agenda than I did when we got married… I believe her agenda was to clean up her image, while mine was to be loved and have children.

"The media was accusing her of having a bisexual relationship with her assistant, Robin Crawford. Since she was the American Sweetheart and all, that didn't go too well with her image… In Whitney's situation, the only solution was to get married and have kids. That would kill all speculation, whether it was true or not."
Bobby Brown and Whitney Houston filed for divorce back in 2007 after spending 14 years together as husband and wife. They have one daughter together, 16 year old Bobbi Kristina Brown. And Whitney Houston is currently busy promoting her new album, I Look To You.
Be the first to receive breaking news alerts and more stories like this by subscribing to our mailing list.