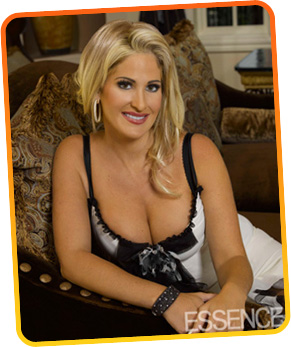 Kim Zolciak of the Real Housewives of Atlanta sat down with Essence.com recently and talked about how she and the rest of girls are rallying behind Kandi Burruss in the wake of her ex-fiance AJ's death earlier this month.
She also touched on her relationship with the guy we all know as "Big Papa" on the show. He had supposedly proposed to her and gave her this big, huge expensive rock for her birthday, but now she's saying that she's called off the engagement because she's ready to commit and he led her to believe that he was, even though he clearly wasn't.
ESSENCE.COM: So what's the scoop? Are you or aren't you still engaged to Big Papa?
ZOLCIAK: I am not engaged to Big Papa! I got a commitment ring last year and so when I got this new ring, I was led to believe that his divorce was final. Who gives someone a massive rock and makes this commitment if he wasn't serious? I found out that I was still on the same merry-go-round. If there is one thing I have discovered about myself from doing this show it is that I'm just far too trusting. I'm actually dating someone new and I'm extremely happy. He's my age, from California and cute as a button. I gave Papa almost four years of my life, so now I'm just trying to move on.
ESSENCE.COM: What's the most important lesson you've learned from that experience?
ZOLCIAK: I need to learn not to take everything at face value. I believe everything that people tell me. I wanted to believe that he was going through the steps for us to be together. I'm not a home wrecker because my husband did it to me. I would never intentionally do that to someone. I was planning my future and so excited because he was the love of my life. But as time went on, I started to wonder, why is this taking so long? I realized that I needed to really sit down and figure this out.

ESSENCE.COM: Have you ever had any interaction with his wife?
ZOLCIAK: Never, but she knew. At the end of the day, I want someone who has the same moral values that I do. The harsh reality is when you look at your relationship after so many years and it's not what you thought, it's very devastating. But you know what, I'm happier than I've been in a long time.

ESSENCE.COM: So there's no chance you two will reconcile?
ZOLCIAK: I will never go back. When I'm done, I'm done. I have no desire to have anything further with him.
Be the first to receive breaking news alerts and more stories like this by subscribing to our mailing list.