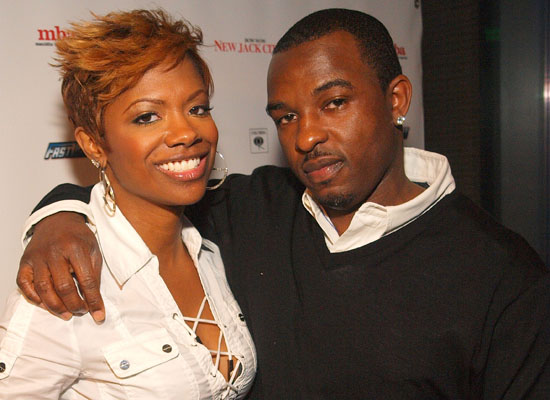 Wow! News just broke that Ashley Jewell aka "AJ" (Kandi Buruss's ex fiance) was involved in a fatal club incident this evening, which resulted in him being stabbed and beat to death. AJ was a regular on Kandi's show, the Real Housewives of Atlanta (BRAVO). The two had been engaged up until August 2009.
I just received word that AJ, who was Kandi's (RHOA) finance, was beat to death in a brawl at Body Tap Exclusive in Atlanta. My sources state that AJ was a promoter partial owner of the strip club and was hit in the head. He was rushed to a nearby hospital where he passed away from his injuries. People who are currently inside the club are texting FROM the club but no additional information is available.
No more information is currently available as this story is developing, but we'll keep you updated. This is very sad, and all we can think about right now are his six kids. Our prayers are definitely with them, Kandi and the rest of his close friends/family.
UPDATED: AJ actually is a part owner at Body Tap, the Atlanta, GA (strip) club where the incident occurred. Though we previously reported that he was stabbed, we were able to confirm through additional sources that no knives were involved and AJ died from injuries sustained from a blow to the head.
Kandi also posted a few messages to her Twitter account, thanking people who left her their condolences. What makes this situation even more sad is the fact that she will be attending her Uncle's funeral today (Sat. Oct 3).
im bout 2 giv my swollen eyes sum rest now. i just wanted to say thanks 2 every1 for their prayers. i gotta get up & go 2 my uncle's funeral

I could never n a million years imagine this happening. please pray for AJ's children. that's who im the most concerned 4.

im just in one of those moods where i dont wanna talk, i dont wanna b held & told its gonna b ok. i just wanna cry myself 2 sleep, alone.
The AJC is saying that the police have a person of interest and are still trying to piece together exactly what happened. Police are saying that the witnesses they've rounded up are cooperating.
Be the first to receive breaking news alerts and more stories like this by subscribing to our mailing list.