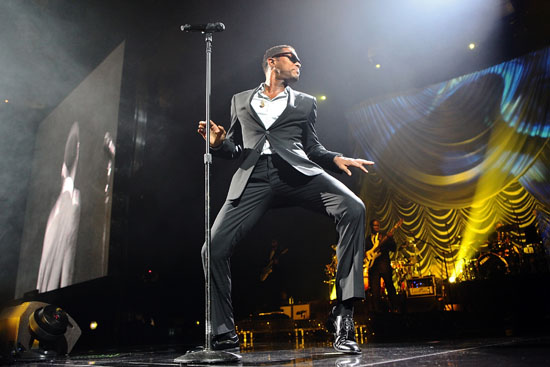 Following performances from his opening acts Chrisette Michele and Common, R&B singer/songwriter Maxwell performed Monday night (Sep 28) in concert in his hometown of New York City at the world-famous Madison Square Garden in support of his BLACKsummers'night fall tour.
The homecoming for headliner Maxwell was sweet: The Garden went completely dark for a few seconds as the chorus from Jay-Z's "Empire State of Mind" warmed up the arena. Max walked out in a dark three-piece suit. The singer started his set on the main stage, but later took to a runway that split into a Y-shaped fork. He had a giant video screen behind him that broke into four smaller screens and later into two ones. "Even though she pays me no attention/ All I wanna show is my affection/ Lose myself inside her ebony," he sang during "Sumthin' Sumthin'." "She ain't even checking me," he continued, dropping to his knees to add drama. On cue, women in the audience started screaming.
Dance splits followed, and then Max dragged the mic stand onto the runway. He faked walking back to the main stage, then ran down the left side of the runway, slapping hands, then did the same down the right side. The tempo slowed down for the soulful "Lifetime." "Sometimes you just wanna smack your boss in the face," he improvised. "But you gotta put food on your table … Brooklyn, stand up!" The lyrical seductions continued on "Bad Habits" (from his recent chart-topping BLACKsummers'night LP) and one of the biggest crowd-pleasers of the night, "Fortunate."

It looked like Maxwell might actually drop a few real tears at one point in the night. He started assessing the moment. "I'm from Brooklyn, New York," he told the crowd. "My family is from the West Indies: My mother is from Haiti and my father is Puerto Rican. Things like this are not are supposed to happen to us," he said about headlining the Garden. "I'm gonna sing this song with all my heart and if you could help me, I would be so happy." He then went into "This Woman's Work," which was written by Kate Bush but has become one of Maxwell's signature songs.

After his recent hit "Pretty Wings," Max played with the audience a little. "Y'all didn't hear what happened?" he asked. "Are y'all playing with me?" He then told them what happened. "It happened the moment when you were revealed," he sang with no beat, going into "Ascension." " 'Cause you were a dream that you should not have been/ A fantasy real … You gave me this beating, baby," he continued as the audience sang along, at times letting them take the lead. "This rhythm inside/ And you made me feel good and feel nice and feel loved/ Give me paradise."

The band then started the song over, with the beat this time. After the song concluded, someone threw a pair of panties onstage. "I have [bodily fluids] all over my forehead!" Max joked.

Getting more serious, he said, "I can't tell you how wonderful it is to be a New Yorker in New York tonight."

SOURCE
Be the first to receive breaking news alerts and more stories like this by subscribing to our mailing list.