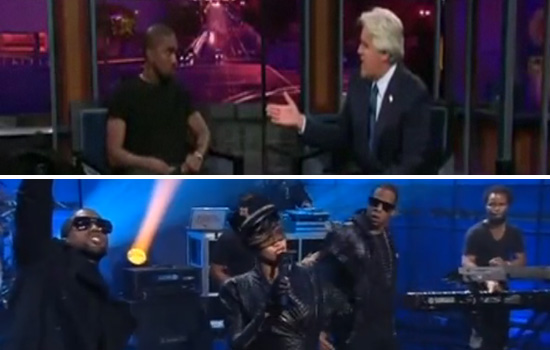 Following his much publicized outburst at the 2009 MTV Video Music Awards, rapper Kanye West sat down with famous TV personality Jay Leno for a short interview aired on the live premiere of Leno's new primetime show, "The Jay Leno Show" Monday night. In the interview, a very somber Kanye West apologized (for the third time) and explained his side of the situation while making sure he wasn't trying to justify his own actions.
When Leno recalled meeting West's late mother Dr. Donda West (who passed away in November 2007) and asked Kanye what she would have thought about his actions Sunday night (Sep 13) at the VMAs, the Chicago bred rapper sat silent for more than 20 seconds to try and compose himself. The live audience was also dead silent as they wanted to hear what Kanye had to say.
"Obviously, I deal with hurt, and so many celebrities, they never take the time off, and I never took the time off, really," West explained. "I've really never taken the time off. It's been music after music and tour after tour. And I'm just ashamed my hurt caused someone else hurt."

Leno said West asked to speak prior to the Jay-Z-led performance and thanked the superstar for honoring the commitment to perform. West said the past 24 hours had been extremely difficult for him. He said he immediately knew his behavior was inappropriate and apologized for stepping on Swift's emotion, as the young starlet was jittery onstage celebrating her big VMA win. "It was just very rude, period," West said. "I'd like to apologize to her in person."

Leno tried to lighten the mood at times, asking West when he knew his protest crossed the line. "As soon as I gave the mic back to her and she didn't keep going," he said to a small laugh from the audience. West, however, was anything but humorous throughout his three minutes with Leno. He teared up when the talk-show host brought up his late mother, whom he lost in November 2007 due to complications following cosmetic surgery. The rapper addressed his broken engagement and mother's passing in his last album, 808s & Heartbreak, but he's attempted to deal with his emotions onstage rather than behind closed doors.

Now, he appears to be ready to confront some buried pains in private. "I have to analyze how I'm gonna make it through the rest of this life and improve," he said.

SOURCE: MTV
Continue reading for the video of the interview and the performance of "Run This Town!"

JAY LENO INTERVIEWS KANYE WEST
JAY-Z, RIHANNA AND KANYE WEST PERFORM "RUN THIS TOWN"
Be the first to receive breaking news alerts and more stories like this by subscribing to our mailing list.