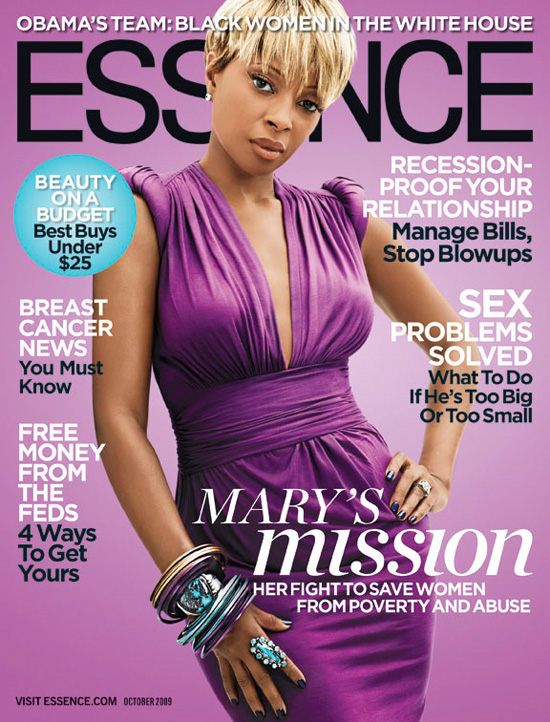 R&B singer Mary J. Blige is featured on the cover of the October 2009 issue of Essence Magazine and she talks about her forthcoming album, Stronger, her new movie, Tyler Perry's "I Can Do Bad All By Myself" and her FFAWN foundation (Foundation for the Advancement of women Now), among other things.
Essence.com's readers submitted hundreds of questions to MJB via Twitter and their own website and you can check out some of our favorites below:
Do you feel any pressure to keep pumping out hits because of the younger artists?—Angie Kyles, Los Angeles
MARY J. BLIGE: I feel no pressure. I pump out hits for my fans. They just want to hear from me. I don't compete with the young generation, I learn from them. I listen to what they're saying, so I can get a little bit of that, so we can cross, so we can have an understanding and hear each other.

Will you ever sing "I Don't Want to Do Anything Else" [her duet with Jodeci's K-Ci] live again? Angela Ervin—Greensboro, North Carolina
No. I mean, if I sing it with someone else, yes.

How would you encourage a single woman who is feeling depressed because of this recession? Claudine Browne—Kingston, Jamaica
Don't be defined by what your circumstances are. Free your energy up. Don't think that money or being able to pay your bills makes you who you are. God made you the way you are, so don't let not having money take that away.
Although this is not your first movie [Mary's debut was "Prison Song" in 2001], what challenges did you face filming?—Letia Mitchell, Danbury, Connecticut
Getting into this character, Tanya, was hard, because it was like a blank canvas, and I had to fill it in. Actors and actresses don't get the credit that they deserve, because they have to develop this person. After reading the script, I know who Tanya is. She's a protector of people. But I had to give her a backstory; I had to give her an age, a first date, siblings. Does Tanya have a mom? A dad? How did she become a recovering alcoholic? I had to go do all that background work.

Now that things are moving upwards in a big way, how do you keep your focus and stay balanced? How does your family help and what exactly do you do with your family.—Rev. Sunee S. Robinson, Goodyear, Arizona
They support me with love and laughter and just unconditional, non-biased love. They don't, "Yes, ma'am" me to death. They tell me what it really, really is. And at the same time, they're still fun.

How should I stay a strong Black woman? I'm raising two sons (15 & 17) on my own and taking care of six nieces because my sister is in jail. I have a very awesome man who wants to marry me next year, but my sister doesn't come home until 2011. I have no help from my mom because she's on drugs, which she says she's not on anymore, but she still runs with the same crew. I pray day and night to God for guidance. But I'd like to know, how can I get through this rough road?—Anonymous, Orlando, Florida
Continue to say a prayer for [your sister and mom], and if this man is anything that you says he is, try it out. He might be someone who can help you with all of it. Or, if God might be answering her prayers through him. But, first and foremost, stay a prayer for your people. Stay prayed up.
View more questions and answers over at Essence.com!
Be the first to receive breaking news alerts and more stories like this by subscribing to our mailing list.