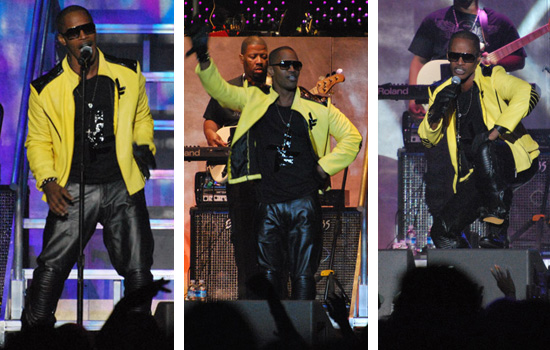 Gossip On This! was in the house last Thursday night (Sep 3) as Jamie Foxx took the stage at the Bi-Lo Center in Greenville, SC to perform for his "Blame It Tour." Combining two of his best talents, comedy and music, Jamie Foxx's show was far from disappointing, and despite the guy only having two studio albums to his name, he somehow managed to put on a 2 hour plus show, singing his biggest hits and some cuts from his latest album, Intuition.
The show opened with a medley of tracks from Intuition, including "I Don't Need It," "Number One," and his latest single, "Digital Girl." The crowd was hyped and he was just as energetic, even to the point where he almost threw that expensive yellow jacket into the crowd. But he pulled back, saying "F**k that sh*t! This jacket too damn expensive. We in a recession!" The crowd of course responded with laughter, which was a common occurrence that night. Having a stand-up comedian also perform in concert definitely had its perks.
The R&B crooner also performed some tracks from his debut album, Unpredictable, including "One Too Many Drinks," "DJ Play A Love Song," and of course, the album's title track, "Unpredictable."
At one point in the show, a picture of Michael Jackson appeared on the large screen above the stage, and Jamie had the crowd dancing and singing to some of the King of Pop's biggest hits. That part of the concert, and the fact that Jamie wore a glove on one hand, showed how much of an MJ fan he was, which isn't surprising at all. What entertainer isn't an MJ fan?
After the MJ tribute, Jamie went on into more of his own songs and performed some of his collaboration tracks, like "Slow Jamz" (Twista & Kanye West), "Gold Digger" (Kanye West) and "She Got Her Own" (Ne-Yo & Fabolous) before ending the show with the chart-topping hit single, "Blame It."
All-in-all, Jamie Foxx definitely put on a show and judging by the response from the mostly female crowd who didn't want the show to end, Mr. Foxx has definitely secured his spot in the world of concert tours. This definitely will not be the last time we'll see Jamie Foxx touring the nation. In fact, if he keeps it up, he might get the chance to the tour the entire world!
PHOTOS: DUSTIN GARY FOR GOSSIPONTHIS.COM
Be the first to receive breaking news alerts and more stories like this by subscribing to our mailing list.