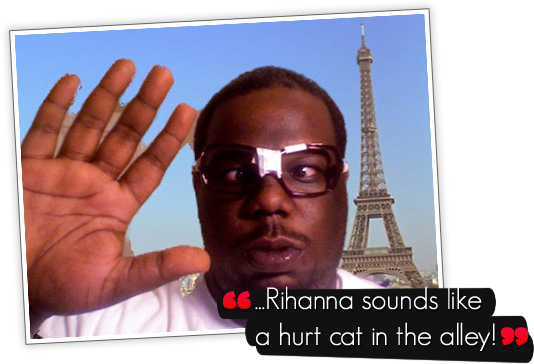 Beyonce's tour manager Marlon Beyince, who just so happens to be her cousin as well, took to his Twitter page yesterday and came at Rihanna (the "i" comes BEFORE the h, Mr. Beyince), claiming she can't sing and that she is Def Jam's version of Cassie. He posted:
"Is it me or i think The good ole Jay could of found SOMEBODY else to sing the hook on this song….She sound like a cat hurt in the alley"

"Rhianna – Roc Nation's/Def Jam's Cassie……Terrible voice, Sub Par Dancing, Nude Photos, Shaved Head…Rhianna's just more successful"

"God please dont let me get in trouble for my tweets Lmfao!!!!!"
He later decided to delete the tweets but little does he know, it takes a while for Twitter to delete the messages across all of their servers. But some people just don't learn. Posting something on Twitter then later deleting it doesn't mean it won't get out.
Let's just hope it's Beyonce that gets the news and not Sasha Fierce. We all know how she gets down! Sasha don't give a damn about no nepotism…
Be the first to receive breaking news alerts and more stories like this by subscribing to our mailing list.