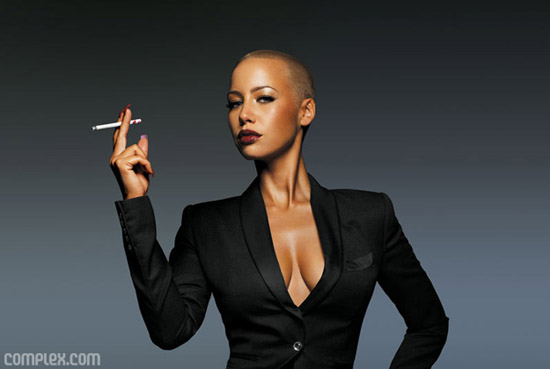 Everybody's favorite bisexual model Amber Rose is featured in the latest issue of Complex Magazine and here are some sexy outtakes from the shoot! I think we should all pen a special "Thank You" letter to Kanye West for bestowing this gem upon us. That lucky SOB…
Anyway, in the interview, Rose dishes on her childhood, how her face is on blogs 24/7, Kanye West (of course) and much much more. Continue reading for more of the interview and for more crazy hot shots from the photo spread!
Complex: You're a Philly girl. What was your childhood like?
Amber Rose: I grew up in South Philly. I grew up very poor with a single mother. My mother is a waitress, and she raised me on a waitress salary. I went to a Philadelphia public school. I've been in Philly my whole life, but obviously I've traveled in between. I was definitely not in the suburbs, I was in the inner city of South Philly.

Complex: What were some street experiences you've witnessed?
Amber Rose: Like gun violence, drug dealers, nowhere safe for the kids to play. In the schoolyard people were drinking 40s, smoking weed. I personally used to drink, I never smoked weed though. The craziest shit was just having my friends' parents die of drug overdoses and things like somebody getting shot on the corner of my block.

Complex: How have you been dealing with the gossip blogs?
Amber Rose: This is my life, this is how my life's been since I was a kid. I've always been popular, my name has always been in somebody's mouth in high school. I don't lose no sleep over this shit. Some of the stuff, when it's extremely far-fetched and stupid, I just laugh. I don't lose a minute of sleep over this.

Complex: What's one thing about 'Ye that really blew you away about him?
Amber Rose: Well, the fact that there can be a noise in the background, or like a windshield wiper and he will start beat-boxing or banging on the dashboard and start doing some type of beat and it sounds so fresh. I remember when he first did something like that and he just closed his eyes, and gets in the mode. I was like, "Wow." You have to be a genius to that. He's amazing.
Hit up Complex.com for more!
Be the first to receive breaking news alerts and more stories like this by subscribing to our mailing list.