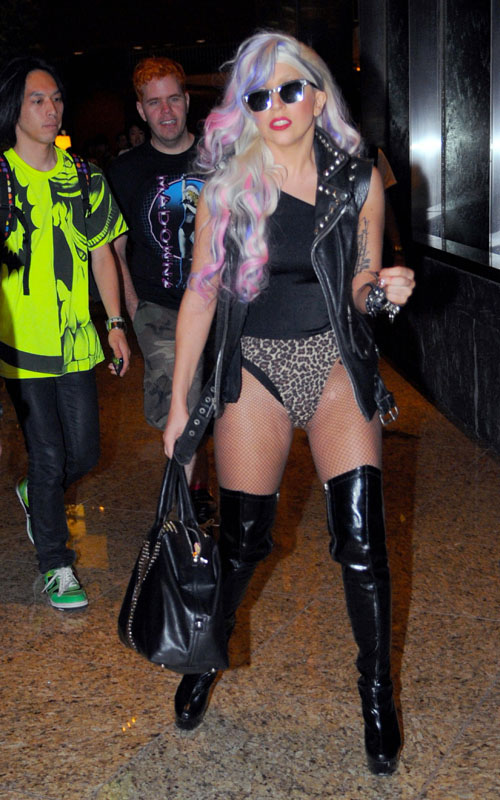 Lady Gaga has some 'splaining to do! There's an "unauthorized" quote floating around with her admitting to be a hermaphrodite and then a recent video was posted to YouTube of her accidentally flashing what looked to be her man balls to the audience at a concert. Both pieces of information seem a bit questionable but it still makes you wonder.
Anyway, the wacky pop star was spotted out and about walking the streets of Japan Friday night (Aug 7) with that f*ck boy blogger Perez Hilton. Gaga has a lot going on with the outfit and everything with it, but as far as her hair is concerned, homegirl looks like she got into a fight with cotton candy dye and lost.
Continue reading to peep the video of her apparently "flashing" concert goers and that seemingly fake quote where she "admits" to having both a penis and a vajayjay, or a "poon and a peener." Her words, not ours!
Its not something that I'm ashamed of, just isn't something that i go around telling everyone. Yes. I have both male and female genitalia, but i consider myself a female. Its just a little bit of a penis and really doesnt interfere much with my life. the reason I haven't talked about it is that its not a big deal to me. like come on. its not like we all go around talking about our vags. I think this is a great opportunity to make other multiple gendered people feel more comfortable with their bodies. I'm sexy, I'm hot. i have both a poon and a peener. big fucking deal.

SOURCE: STARR TRASH - FYI NEVER HEARD OF THIS SITE BEFORE!! (AND THEY'RE ON BLOGSPOT)
PHOTOS: GOSSIP GIRLS
Be the first to receive breaking news alerts and more stories like this by subscribing to our mailing list.