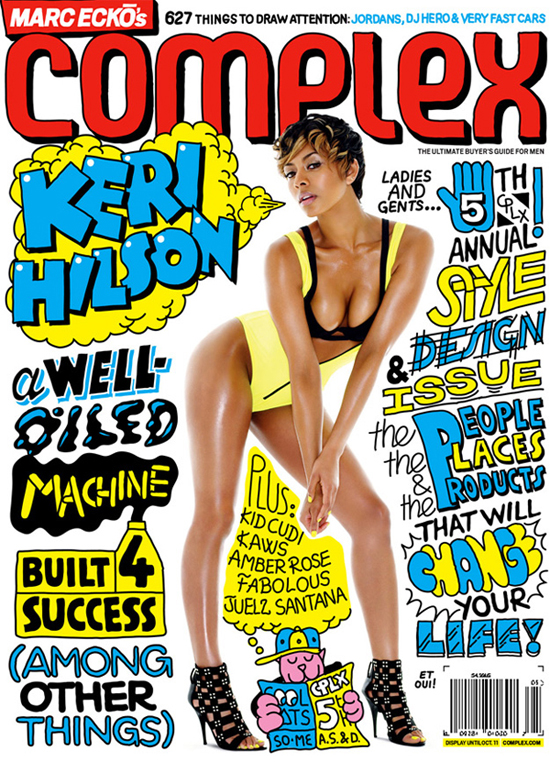 R&B songwriter turned singer Keri Hilson and her sexy oiled up body (minus the badonka … cause "she no got one") is featured on the cover of the August/September 2009 issue of Complex Magazine, along with rapper Kid Cudi. In the issue, the BET Rising Icon talks about being frugal, her thoughts on being "overexposed," and how you'll never see nude pics or a sex tape from her. Check out some snippets below!
So you were in college, cashing checks?
Keri Hilson: My very first check was for Ruben Studdard's first album, like $25,000. And my family was like, "What the hell is this? This is what you've been doing? Who the hell brings home a check like this?" They're thinking $2,500 here and there, whatever. It was crazy.

Did you blow it?
Keri Hilson: No! I'm very frugal. Very.

We haven't seen you as much as your contemporaries on blogs and gossip sites.
Keri Hilson: Good. Good. I'm not camera-hungry. That was never part of my dream, to be overexposed. I'd much rather be mysterious.

So we're never going to see a Keri Hilson sex tape, then?
Keri Hilson: Or Playboy, or any of that. Nah. If I do something naked, it'll be for Allure's skin-cancer benefit auction or something like that—it would be to help some cause other than my record sales.

What was Keri Hilson's first reaction when scandalous photos were leaked of certain "other artists?"
Keri Hilson: My first reaction was "Thank God I never did that." I never let anybody take any naked pictures of me, so there would be none. I was always one of those over-paranoid people, convinced that someday that I would be living the dream, so as early as middle or high school I wouldn't do certain things, just in case.
Continue reading for lots of sexy outtakes from the shoot!
Hit up Complex for more of the interview!
Be the first to receive breaking news alerts and more stories like this by subscribing to our mailing list.