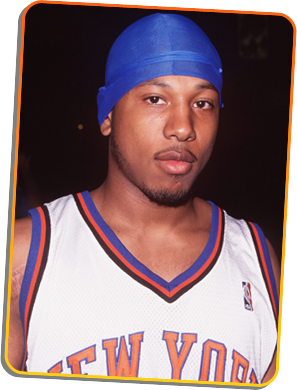 After spending over 8 years in prison, former Bad Boy recording artist Shyne will be released from prison this October. A Manhattan judge officially signed the court order that will spring the rapper from jail Tuesday (Aug 4). Upon his release, Shyne will receive two-and-a-half years of post-release supervision.
An attorney for Shyne — born Jamal Barrow but now going by Moses Levi after converting to Judaism while in prison — said that the order marked one of the last remaining hurdles in the way of his client's release from prison in October.

"He's about 90 percent of the way home now," attorney Oscar Michelin told MTV News following the hearing.

The district attorney's office had recommended Shyne receive the maximum amount of five years of post-release supervision (essentially probation), due to the violent nature of his crime. In June of 2001, Shyne was sentenced to 10 years in prison — the most serious charge he was found guilty of was first-degree assault, after a patron in the club was shot in the face following a melee that started between a group of clubgoers and Diddy's entourage, which included his then-girlfriend Jennifer Lopez and Shyne. Shyne brandished a gun and fired shots into the air to break up the argument.
The December 1999 shooting resulted in charges being brought against both Shyne and Diddy, with both of them going to trial. The high-profile incident produced plenty of headlines, from Diddy's red-light running, high-speed exit with Lopez following the shooting to an alleged bribery plot. Shyne was a rising talent at the time, with his husky baritone reminding many in the music industry of legendary Bad Boy Records artist Notorious B.I.G. Diddy signed the youngster and was set on molding him into hip-hop's next superstar before their relationship crumbled after the trial, in which Diddy was acquitted on all counts.

In court, Michelin presented a memo he prepared in Shyne's defense, which was a combination of previous law examples that were similar to his client's case, talk of the rapper's good behavior and testimony from scholars and business executives who support the Brooklyn native's release.

"I'm grateful," a calm Shyne told the judge.

The rapper was hoping to be re-sentenced as a way to avoid post-release supervision, telling the judge that the supervision equates to "extra jail time." It was a strategy he and his lawyer proposed but the judge quickly dismissed, citing a recent court of appeals decision that changed the nature of assigned post-release supervision in New York. As a result of the ruling, a number of previous dependents in cases, including Shyne, have been issued extra supervision following their jail sentences. The judge acknowledged the rules were not in effect when Shyne was initially sentenced, but cases all over the state are now being reexamined as a result of the ruling.

In April, Shyne appeared in court for a parole hearing, hoping to be released early after serving eight years in prison — but the rapper was denied any lenience. Now the rapper has a mandatory release scheduled for October 6 of this year. The date will mark eight years and seven months served; he began his sentence in April of 2001, when he was 22 years old.

Shyne will serve the rest of his sentence at the Sullivan Correctional Facility in Fallsburg, New York.
SOURCE: MTV
Be the first to receive breaking news alerts and more stories like this by subscribing to our mailing list.