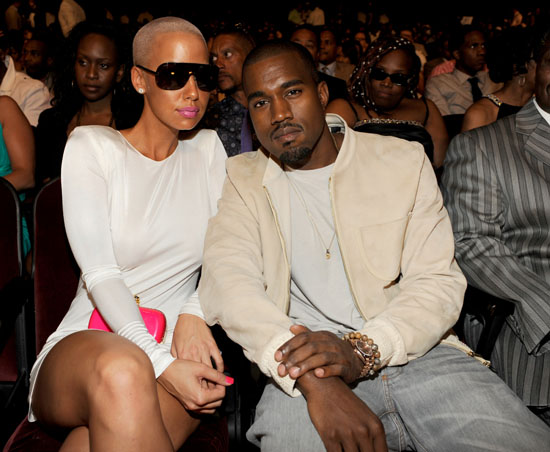 Thanks to her ongoing relationship with rapper Kanye West, model Amber Rose has gained a lot of attention from blogs and the media alike. MTV News caught up with her backstage at the launch of the America's Most Wanted Music Festival and they talked about her starring role in Kanye's next music video and her upcoming publicity appearances in some of the most popular magazines out.
"I have Kanye's 'Robocop' video. I'm playing a robot through the whole video. Ninety-five percent of the video is just me," Amber said. I have Complex mag, Elle magazine, Persona magazine — I have the cover to the back, the whole issue is dedicated to me," she said of her upcoming publicity appearances. "I'm excited about that. … I definitely welcome it," she added. "I appreciate all my fans. I definitely never expected it. I don't wanna say I never wanted it. But … I just know a lot of girls, they go to modeling agencies every single day. That's their life. A lot of stuff … just landed in my lap. I thank God for that; it's really a blessing. I thank God for that — and Kanye, of course. Kanye definitely gave me the fast track to the top."
Her new homegirl Nicki Minaj, a female rapper signed to Lil Wayne's Young Money label, also chimed in:
"She's a dope girl," Minaj said of Amber. "You can tell she's dope. I'm all about girls that are spearheading a movement. She's doing her own thing in her own lane. The world has yet to see what she's going to accomplish. Be on the lookout for that."
Be the first to receive breaking news alerts and more stories like this by subscribing to our mailing list.