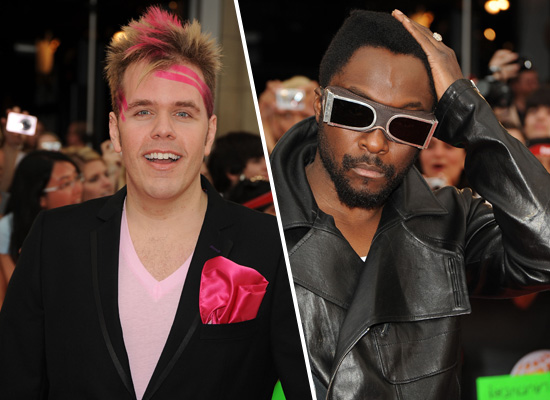 What did the fist say to the face? Punch! Celebrity blogger Perez Hilton walked away with a lot more than what he expected after leaving a party following the 2009 Much Music Video Awards last night in Toronto, Ontario (Canada). He and musician Will.i.am of the Black Eyed Peas are all over the news due to an altercation that happened outside an afterparty that resulted in Hilton allegedly being punched in the face by Will.i.am's manager.
It all began at the dress rehearsal for the MMAs Saturday night, and according to a video statement released by Hilton himself (real name: Mario Lavendeira), Fergie approached him with questions on why he's always to mean to him on his blog. The next day at the actual ceremony, he says he was "elbowed" by a member of the BEP entourage and later that night is when Will.i.am approached him about his disrespectful attitude towards Fergie and this is where all the drama went down, which ended in Perez Hiton's face meeting with Will.i.am's manager's fist after he called Will.i.am a "faggot."
After the "assault," Lavendeira ran to his hotel room and called the police who let him know that they would get to him later since they had more important things to worry about (true story!). So he took to his Twitter to let his 1,000,000+ followers know what happened:
I was assaulted by Will.I.Am of the Black Eyed Peas and his security guards. I am bleeding. Please, I need to file a police report. No joke.

Still waiting for the police. The bleeding has stopped. I need to document this. Please, can the police come to the SoHo Met Hotel.

I spoke to my lawyer. I really need to talk to the authorities. Please come to the SoHo Met Hotel. Have called the police. Need them here.
And after the police finally got around to his cry for help, he had to let his Twitter followers know so they could stop flooding them with their calls.
The Toronto police are here now. Thank you. Please stop calling them.

Thank u all from the bottom of my heart for ur concern. The police are investigating the assault now. I did the right thing by reporting it.
Poor guy … not! We won't say he "deserved" it, but if you are man enough to chop people down at the knees with your words to the millions of people that visit your website on a daily basis, then you should be man enough to take a little hit to the face every now and then. Perez is definitely not from the streets…
WILL.I.AM'S SIDE OF THE STORY
PEREZ HILTON'S SIDE OF THE STORY (1 of 2)
PEREZ HILTON'S SIDE OF THE STORY (2 of 2)
Be the first to receive breaking news alerts and more stories like this by subscribing to our mailing list.