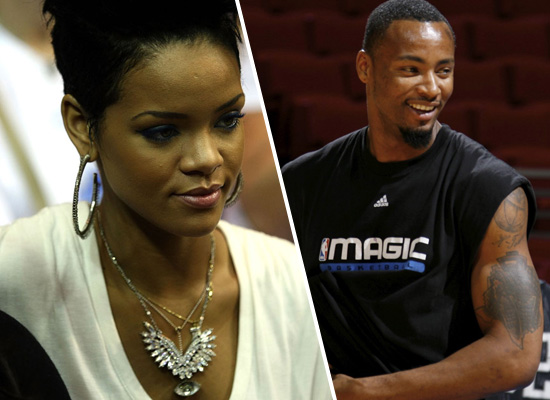 A new report is saying that Rihanna has a crush on Orlando Magic's Rashard Lewis! And friends claim that is one of the reasons she hit up last Thursday's game in Orlando.
Says a pal of the singer, "Rihanna is trying to get to know Rashard. She's digging on him, and she hopes the feeling is mutual."
Rihanna has also been linked with another basketball star, Los Angeles Laker Andrew Bynum, but her homegirls say there's nothing going on (romantically, at least) with them.
"Ri and Andrew are just friends, and they have been for a while. It's Rashard who she wants. She thinks he's hotter than hot."
Oh yeah … Chris Brown was there too.
Although the two sat on opposite sides of the hoop next to the Magic's rivals, the Los Angeles Lakers' bench, the "No Air" singer couldn't resist constantly sneaking glances at his former flame, who was subpoenaed just days ago to testify in court after being allegedly assaulted by Brown back in February.

At halftime, the two decamped to different lounges: Rihanna to the owners' personal lounge, and Brown to the Blue Lounge along with Tiger Woods, Hulk Hogan and Ahmad Rashad.

Although Rihanna lingered as long as possible in relative hiding before the game resumed, her ex manfully made his way to her seats, and shook hands with all of her friends. "Chris was definitely trying to make the situation less awkward," said one eyewitness. "He was trying to be very grownup, and wanted Rihanna to see that as well."
SOURCE: NYDN