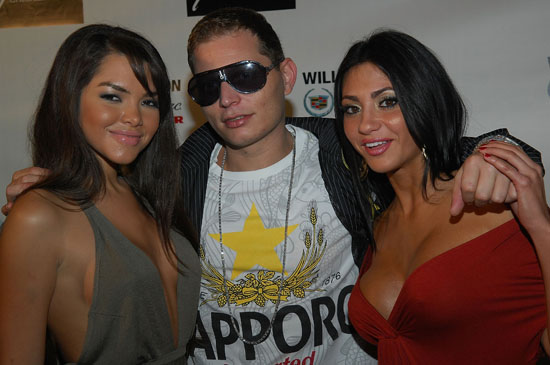 In 2006, Scott Storch was a pretty successful producer and basically a household name. Having worked on hits for the biggest artists in the game including Beyonce, 50 Cent, T.I., Chris Brown, Christina Aguilera, Nas, Snoop Dogg and many more, his bank account was pretty loaded! But he recently revealed to MTV News how he basically threw away over $30 million in less than a year.
To make a long story short, he got addicted to drugs and stopped caring about his career. His manager Derek Jackson, who has known Storch on a personal level for nearly 20 years says his abrupt rise and fall was "historical."
"[It was] unlike anything I've ever seen in my entire life," Jackson told MTV News. "Historical! It was historical without question. … Honestly, about three years ago, he got really shady. And that's the best term I could use. He went from what his normal vices were to suddenly becoming a person who was infatuated with the drug, and I saw it constantly."
"A lot of the work that we would do and how much we would do of it, that started to scale back. I have to say the magic month was August of 2006," Jackson continued. "I will never forget it. It will be something that will stay with me for the rest of my life. You know, '06 for us was the magic year; we hit Lotto. Everything worked. I mean, there was nothing that we did that did not work. I gotta honestly say, outside of my kids, it was the greatest year of my life. It was so many [hit records] I can't even tell you. That was the year he won [ASCAP's] Songwriter of the Year [award]. We broke records — lots of [chart] records we broke and he did them quick. It was just a wonderful year, but I think it was defined by that magic month of August. He ran into the Hollywood class — and when he went to Hollywood, all things changed."

Most notably, Storch went on vacation.

"It was the first time he took off in, I would say, the duration of his career. I've been with him since he was 17 years old. I found Scott [playing keyboards with] the Roots in 1992, so for the duration of that, he's always been a worker bee, that's just his spirit. But in August of 06′, we took a month off. It was over. Never came back."

Literally. Storch got addicted to drugs and just stopped caring about his career.

"Scott, I have to be real because, once again, it's about a story that has to be told," Jackson said. "We made a lot of money — I mean a lot of money that year [2006]. And Scott — in all honesty — he was broke by January. It was the quickest [loss] of money that I've ever seen in my entire life."

"The cost of the drug didn't effect my life," Storch weighed in. "It was the poor decisions I made, that were so poor financially, that caused me to go into this situation where I was forced to change my lifestyle … forced to change a lot of things.

"[I had] 15 to 20 cars at all times," he continued." That's not smart. I would take one of 15 half-million-dollar cars I owned and go to the mall and spend that much money. Stupid, stupid stuff. It's like it didn't make a difference. They were ego investments. I would have been great with three or four cars! I didn't need a 117-foot boat."

"Cars!," Jackson explained of how Storch lost his fortune so quickly. "Private jets are expensive — please leave them alone if you can't afford them. Trips to the Riviera on a private jet is $250,000 one way. I'm talking about, it was a routine [with Scott]. Spending on others — if you can't take care of yourself, how you gonna take care of everybody else? And it got out of control."

Storch weighed in, "I watched my own father, he went bankrupt and had problems with the IRS. He was living beyond his means, and I guess I was doing the same thing and not even realizing it."

As much as he was making, Storch was spending double on drugs and overly luxurious living. He was out of control, and Jackson takes some of the blame for not intervening sooner.

"I was an enabler, I was an enabler," Jackson admits. "And it wasn't until I got a phone call — rest in peace [former Def Jam Records President Shakir Stewart, who died of an apparent suicide last year]. My man, one of my closest and dearest friends in the music business, said, 'D, what are you doing? Scott has Janet Jackson sitting in his studio and it's going on five hours. Where is he at? What are you doing, D? What are you doing?' And I knew the routine started to become like that. We did it to a lot of people in '07. It's when it all went bad. We had people sit in the studio for upwards of 10 hours at a time. And I would never be real to [Scotty]. I guess I got to a point where I stopped caring. We made money, I watched him blow it, I didn't care anymore. But then I watched that phone call come from Shakir."

Eventually Jackson would exhaust himself trying to get his friend to clean up, so he resigned as Storch's manager. Scott still didn't get point: His addiction had tapped his inspiration to make music.

"It started affecting me where my own son would be like, 'Dad, what's up? When's the next hit record coming up?' " Storch recalled. "I didn't have a answer for him."

It wasn't until 18 months later that Storch and Jackson would see each other again. Storch had decided he needed help.

"[It was] probably in the worst state I've seen [anyone] in my life," Jackson said of Storch. "Somebody that you knew when they were young and full of zest and fire and excitable — the spirit that the kid had was incredible. But to come back to black eyes, bloodied and bowed and unlike the person you knew. To be quite frank, he was a junkie. He was a junkie. And it was unlike anything I had seen in him, ever. Ever."

Jackson checked Storch into a rehab facility called Recovery First. Thomas Trevino, a mental health tech and a three-quarter-way manager at Recovery First has been working with Storch for the past few months.

"I can clearly remember the first day he came in," Trevino recalled. "The guy just looked like many others clients we've got: emotionally, physically and spiritually broken. Throughout the time, he resided in our in-patient program and he eventually graduated into an out-patient program; he was then taken into our three-quarter way house.

"I have seen him change," Trevino continued. "I've seen his mind is totally opposite from day one. The guy couldn't even carry on a clear conversation when he first came in. And now I have been having the honor and privilege to come with him to the studio a couple times and check him out, see what he's doing. And it seems like he's back on track, man. He's a great inspiration for many out there who are trying to do this line of work — and at the same time he's a great inspiration for many drug addicts out there who want to stay clean and live this way of life."

"It's just that type of deal," Storch — who is still under treatment — said of his fall and his climb back to the top. "I've lived it, done it. I've been around a lot of greats I seen in this industry that have problems, but the comeback can be that much greater. It's a well of creativity in my mind right now; it's not being hindered and being in love with the music again — seeing the day and taking advantage of the opportunities I've been afforded."

Storch is back at work, and says he's better than ever. He's in the studio with the Game for three days, and next week goes to Orlando to work with Chris Brown. There's also a track in the works involving him, Quincy Jones and Jennifer Hudson, as well as Kat DeLuna's potential first single. Outside of music, he's been shooting a reality show and has guest appearances from the Kardashians.

"This is God's work," Jackson opined. "So he has to respect that. I just hope that the people out there that watch this take the time to understand that even in the lowest of moments — because it was low for me, it took a year out of my life, it destroyed my life because I was so in tune to him — to always remember you can come back, you can clean your life up. You can be the same again. It's never too late. Never too late — never! So hopefully from this, people will understand that there's always a tomorrow."

SOURCE: MTV
Be the first to receive breaking news alerts and more stories like this by subscribing to our mailing list.