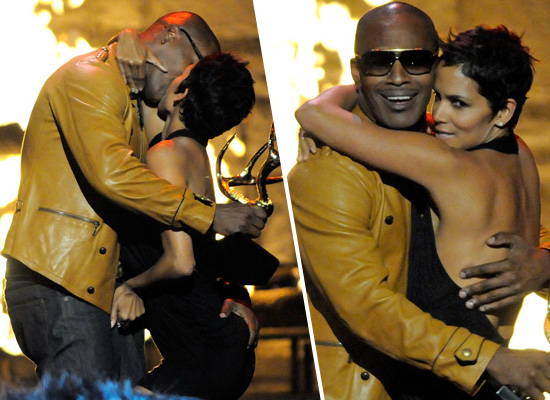 Actor/comedian/singer Jamie Foxx almost punked out when it came time for him to kiss Halle Berry at Spike TV's 2nd Annual Guy's Choice Awards last month (May 30) in Los Angeles. But he manned up and did it anyway, and he doesn't have any regrets. He says the whole thing was conjured up by Berry  herself, and was intended as a joke.
Foxx explains, "It was a joke. First, I want to let everybody know that I respect Halle Berry and I respect her relationship. But after she won the (2001) Oscar, Adrien Brody came up and laid a little tongue on her. So she decided to get me back, which I didn't mind at all."
And the Ray star admits he was so nervous before pulling Berry's prank, he nearly backed out at the last second.

He adds, "I almost froze but I said, 'Think quick Foxx,' and I got into it… she really gave it to me and I appreciate that."
SOURCE: CM
Be the first to receive breaking news alerts and more stories like this by subscribing to our mailing list.