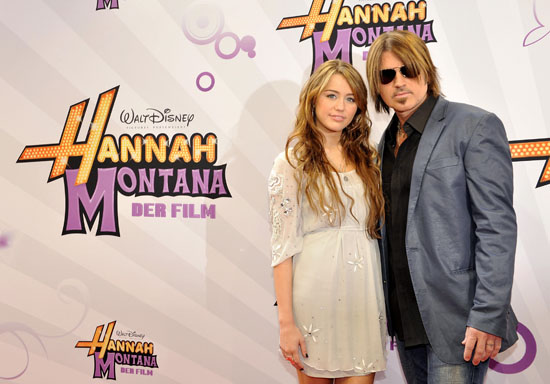 Brace yourselves people. After the year 2010 … there will be no more Hannah Montana! That's right, after a extremely successful (understatement, we know) 4-year run, Miley Cyrus' dad/co-star Billy Ray Cyrus says that the upcoming season of the Disney Channel series will be the last.
"Quite frankly, I give a lot of credit to Miley for taking it to another year," Cyrus said. "She didn't want it to just end with whatever was the last episode we did. She wanted it to build to where there's a moral to the story, to where it doesn't just end and go away and that's it. She wanted there to be an official ending to 'Hannah Montana.'"
Shooting for the final 11 half-hour episodes of the 4th and final season of the show will begin in January, in addition to an hour-long season finale, which will all air sometime in 2010.
"We'll start (shooting) season 4 sometime around the end of January," Billy Ray said. "We have to be done by the first week of June in the summer of next year."
We believe this is the part where all of the little girls begin to whimper. But hey, you didn't expect Miley to be Hannah Montana forever, did you?
Be the first to receive breaking news alerts and more stories like this by subscribing to our mailing list.